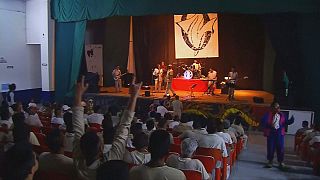 In a Mexico City prison, a rock band is providing a release for inmates, brightening up what is for some a life behind bars.
I realized I could be a better musician... I'm also taking English and French courses
Mexico's prison system is notoriously overcrowded and violent, and the hope is initiatives like these can help offenders re-integrate more successfully into society later on.
The six-piece band Zona Cero – or Zero Zone – has been around for five years and has steadily gained popularity in the capital's Northern Male Preventative Prison, known as the Reclusorio Norte.
Inmate and band member Mario Guerrero explained the name referred to the prison's solitary confinement section.
"In this prison you have a very special place for inmates who cause disturbances or behave badly. Officials take them there. It's basically another jail called Zero Zone, the forgotten zone, whatever you want to call it. We named the band in reference to that zone… and to show our respect for incarcerated people."
The band brings welcome entertainment to inmates, who also have the opportunity to take courses and pursue artistic endeavours.
Carlos López has been in prison for 20 years for homicide. He said the band helped him cope with time behind bars.
"I realized I could be a better musician. We paint with oil and acrylic and I've improved. I'm also taking English and French courses, a little bit of computer training – things I already knew but forgot."