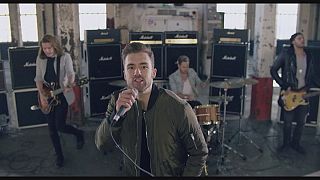 Lawson are back hungry for success with their new single, "Money", and a second album on the horizon.
It sees the four piece sticking to the sounds that made first album "Chapman Square" a solid seller.
But the single is all about the early days of being broke and unknown, on the road.
"The new single, 'Money,' is a really upbeat, fun track that we had the idea for ages ago, actually, when we were an unsigned band touring the country with no money, back of a van, no one really wanted to give us a gig, so we used to sing 'where's the money?' as a joke and we basically developed it last year when we were in Nashville writing and we turned it into this huge anthemic pop rock anthem," says singer Andy Brown.
With a bit more cash in their pockets the boys have a Polydor push behind "Money", and after a lean two years unable to consolidate the early buzz, their noses are set to the wheel.
"We've probably been out there for like a year or so touring. So we're definitely ready now for a new album. It's been a while – I was quite ill for a little bit of time as well, so we had to take a bit of time off whilst I recovered, but we're now raring to go with this new album. It's all finished, it's all done, so we're just really raring to get it out there," says Brown.
The smart "Money" is on the new album, due this summer in time for the beach party.