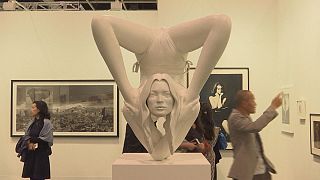 The Art Basel Hong Kong fair has opened its doors to the public – 239 galleries from 35 countries are looking for art buyers. The fair, which is in its 4th edition, showcases premier works from across the globe. It will not only see the return of older galleries but will also welcome many new entrants from the Western, Asian and Asia-Pacific regions.
In the past, only a few artists from Asia and the Asian-Pacific regions became famous internationally. Emi Eu, the director of the Singapore Tyler Print Institute, which focuses on innovative print and paper techniques, says that this Art Fair in Hong Kong is bringing Asian art to Western art lovers and buyers.
This fair is also the place to discover new talent. United Talent Agency is one of the largest talent agencies in the world, with 300 agents around the globe. For Joshua Roth, the agency's Head of Fine Arts, the art scene in China is really thriving right now.
"As someone who represents creative people you will always want to go to where the energy is," explains Joshua Roth. "You're always looking for excitement, and China is an incredibly special place right now in the world scene for creativity and for art."
Works of artists from Indonesia, Pakistan, India, Taiwan, South Korea, Japan and Singapore are all represented here. Art Basel Hong Kong hopes to attract at least 6,500 visitors until it closes on 26th March, and will host a series of talks and events throughout the Art Fair.
Must-See Booths at Art Basel Hong Kong 2016: https://t.co/DvLYHBHmW2pic.twitter.com/kqSJw15jws

— BLOUIN ARTINFO (@artinfodotcom) March 24, 2016