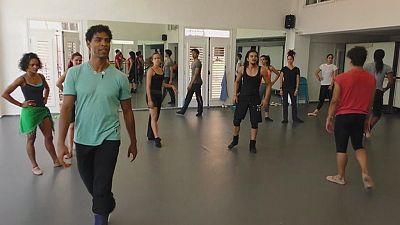 Afer retiring from the Royal Ballet of London last November international ballet star "Carlos Acosta": http://www.carlosacosta.com/ returns to his Cuban roots with his new dance company 'Acosta Danza.'
The 42-year-old dancer is now back in his native Havana with a project aimed at mixing classic and contemporary dance styles in a unique project.
"I selected for the company, dancers with strong contemporary and classical experiences, one half is dancers with classical technique and the other half contemporary dancers, so there is a symbiosis. I think this will create a new style in the island but also unique in the world," said Acosta.
The company was founded last summer and doesn't yet have permanent headquarters. For those dancers trained in the classical techniques associated with the National Ballet of Cuba, the new company is both a great opportunity and a major challenge.
Classical ballerina E. Hernandez said: "This a project that, of course, will be long-term, because first there must be unity, a search for movement. It must integrate classical with contemporary, for we don't say, we are classical or we are contemporary, but we are Acosta dance. "
Acosta came to prominence in the early 1990s and joined London's Royal Ballet in 1998. With his fabled grace and athleticism, he has earned comparisons to Mikhail Baryshnikov or Rudolf Nureyev.
In 2011 Acosta created a Foundation to give young dancers the opportunities he benefited from as a boy. As Cuba re-establishes ties with the United States, Acosta believes that ballet can help create cultural bridges.
"These are very interesting times, it gives people a lot of hope. It has been a dispute over many decades between two countries that are neighbours and these are moments to celebrate because we are technically friends. And then I am sure that many artistic collaborations will emerge and for artists in general it is very positive," said Acosta.
Acosta Danza will make its professional debut at Havana's newly refurbished Alicia Alonso Great Theater on April 8, performing a range of contemporary works.