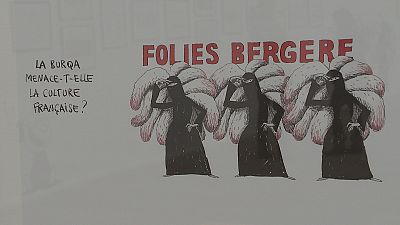 Portugal's annual event dedicated to some of its best cartoonists opened in Vila Franca de Xira near Lisbon.
This 17th edition marks the first time that the guest of honour is a woman. Belgium's Cécile Bertrand is an award-winning cartoonist who works for one of her country's leading newspapers, La Libre Belgique.
The town's mayor, Alberto Mesquia, is delighted with the choice of guest: "It's extremely important to have a woman give a feminine vision of society. I think that step by step, women are gaining their natural place in society. But there's still a long way to go, and that's what Cécile's work illustrates here."
Throughout her 25 year career, Cécile Bertrand has denounced inequalities between men and women in her work. It was a sense of injustice she felt strongly even when she was a young girl. "Already as a child I found it unfair that they made me sit in a certain way, I wasn't allowed to cross my legs, and spreading my legs when sitting, that was considered the worst! Little boys, they could do anything they wanted but we couldn't!," she told euronews correspondent Dulce Dias.
Besides gender inequality, Cécile often seeks inspiration in the news. Cartoon Xira is also a chance to take a look back at the way Portuguese newspapers covered the news in 2015.
Among the 11 artists on show is Cristina – the only female political satirist on the Portuguese cartoon scene.
"There are several women cartoonists in Portugal, but when it comes to political satire, I'm the only one," she explains. "But there aren't that many media outlets where we can publish our work. Newspapers are closing, so the difficulty is not just for women cartoonists, but for all cartoonists," she explains.
But with more and more newspapers closing down, there is little to replace them, according to the exhibition's curator António Antunes: "The internet is not an alternative to newspapers, because there's no money to be made. Either you work for nothing or your work is very badly paid. The internet is a subsidiary form of the traditional press. The internet can be useful for many things, you can use it to show your work, to get your work known, but it is not an alternative."
On show this year are more than 100 drawings published in the Portuguese media throughout 2015 – a year marked by events including the refugee crisis, the Portuguese elections, the continuation of the Greek crisis and terrorist attacks on Paris.
Cartoon Xira runs until May 8.