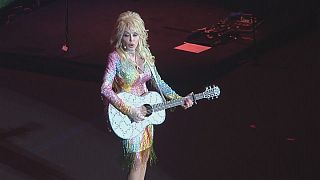 The writer of 'I Will Always Love You', 'Jolene', and a 'Coat of Many Colors', Dolly Parton has announced the release of 'The Complete Trio Collection' featuring two classic albums 'Trio' and 'Trio II', plus a number of unreleased tracks recorded in the late 80's and 90's by Dolly, Emmylou Harris and Linda Ronstadt.
Dolly Parton, Linda Ronstadt and Emmylou Harris will release 'The Complete Trio Collection' https://t.co/8kphOAaCZwpic.twitter.com/iX9KnEBPGm

— Rolling Stone (@RollingStone) March 14, 2016
Dolly Parton spoke about the project:"We did a whole bunch of songs thinking we were going to do it, years and years ago, the very first try. And it didn't come out. And it was only years later that we got together and did a bunch more songs and it did come out. And so there was tons and
tons of stuff left in the can. Cause we would go in two or three different times to record different things."
Both 'Trio' and 'Trio II' won Grammy's and sold millions.
Dolly Parton on first U.S. tour in 25 years, says songwriters don't get 'just dues' https://t.co/9aXh5OMTC3pic.twitter.com/dfmrO223sr

—

FOX

& Friends (@foxandfriends) March 10, 2016
Dolly Parton is about to embark on her first North American tour in 25 years with her new album 'Pure and Simple.'
Aubrie Sellers is a new voice on the country scene. Her debut album, 'New City Blues' shows her as a musician that seamlessly links the indie rock enclave of East Nashville to her country roots in Texas:
"People would ask me what my music was and I would say it's country. But I thought, that doesn't really embody what it is fully. And so I always described it as trashy and I came up with a bunch of sounds, trashy country wouldn't describe it. Garage country sort of embodies that rock that raw sound as well as the country in my voice and some of my songwriting," she mused.
.AubrieSellers</a> is one of <a href="https://twitter.com/NPR">NPR's #AUSTON100 to watch! Find out why at our #SXSW party 3/18. #AUDIENCErooftoppic.twitter.com/RhCvEYCsSm

— Audience Music (@AudienceMusic) March 13, 2016
It took years for Sellers, a third-generation musician, to find her niche, she is the daughter of country singer Lee Ann Womack and country songwriter Jason Sellers.
Thank you to everyone who drove all the way to this casino to see us tonight! photo // jojo_n_y_ <a href="https://t.co/3h93s6TldU">pic.twitter.com/3h93s6TldU</a></p>&mdash; AUBRIE SELLERS (aubriesellers) March 7, 2016
Aubrie Sellers wrote or co-wrote all 14 songs on her album which is out now.
aubriesellers</a> tonight playing <a href="https://twitter.com/MoheganSun">MoheganSun Wolf's Den pic.twitter.com/Hk2BmtXH7K

— Country Lyrics (@NECountryLyrics) March 7, 2016
Randy Houser is no newcomer. His fourth album, 'Fired Up,' showcases his powerhouse vocals on progressive rock flavored country songs.
"I sing loud and proud and that's just the way it's going to be."RandyHouser</a><a href="https://twitter.com/hashtag/FiredUp?src=hash">#FiredUp</a><a href="https://t.co/oubwpxs4LI">https://t.co/oubwpxs4LI</a> <a href="https://t.co/GA3TMMYVj6">pic.twitter.com/GA3TMMYVj6</a></p>&mdash; Apple Music (AppleMusic) March 16, 2016
He spoke about his latest project:
"There's a lot of this album that reminds me of other stuff I have recorded. It's a good representation of where I have been, where I am and where I am going, if that makes sense."
Randy Houser shares a moment with Cmdr John Drake during today's music video taping downtown. RandyHouser</a> <a href="https://t.co/vXhTObz4gk">pic.twitter.com/vXhTObz4gk</a></p>&mdash; Metro Nashville PD (MNPDNashville) March 11, 2016
'Fired Up', features 17 songs including the single 'We Went.'