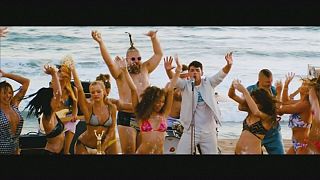 Joe Jonas, formerly of the Jonas Brothers is back with new band DNCE and Cake by the Ocean, their debut single.
The Jonas Brothers, Kevin, Joe and Nick, formed in 2005 and quickly rose to fame with their upbeat pop rock songs. The group released four studio albums from 2006 to 2009, selling over 17 million albums worldwide but split in 2013.
Billboard Hot 100: #10(-1) Cake By The Ocean, DNCE</a> [20 weeks]. *peak #9*</p>&mdash; Chart News (chartnews) March 7, 2016
But Jonas has moved on from his teeny boy band days with the Disney Channel trio and he explained where DNCE's unique funk-pop sound comes from: "Our sound is definitely different from anything I think we've all done before.
"We've all been in different bands and made music by ourselves and separately and I think for us we've all really kind of agreed upon funk, dance and kind of rock music and that's where we pull our biggest inspiration as DNCE so everything from Sly and the Family Stone to Earth, Wind and Fire, everywhere in between.
"We really look up to those artists and try to embody that in our music."
Their debut single reached number nine in the Billboard Hot 100 chart and the band is now working on an album, due out later this year.
Bass guitarist Cole Whittle explains the themes for the new album: "The record is going to be maybe, you know, a handful of 10, 12, 13 snapshots of just what our world, what the DNCE world is.
"You know, it's romantic, it's fun, it's messy, it's party, it's sexual, it's Animal House the band. So, you know, it's just going to be different views into the different sides of us."
The infectiously catchy Cake By The Ocean is out now on Island Records.