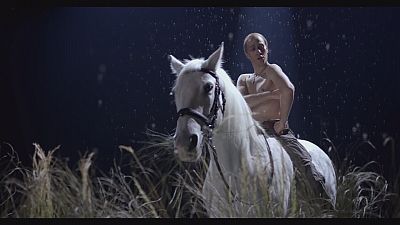 Slovenian comedian Klemen Slakonja has clocked up more online hits than his country's entire population with his parody of Russian president Vladimir Putin, which has gone viral on the internet.
Entitled 'Putin Putout', the video made its debut on the national audition show for the Eurovision song contest, though it was not an official entry.
"I decided to finance the video myself," explains Slakonja. "Some of the team members shot the video for free, so it was a bit easier for me. And then came the invitation to host EMA, Slovenia's Eurovision song contest final, and I somehow thought that Putin would fit well into my part of the program."
Slakonja's parody has brought him unexpected fame. But the artist has posted a disclaimer on Facebook along with a link to the video, explaining that the song is intended as a joke and not meant to offend anyone.
"I want to stay somewhere in between, so the people can have different interpretations of the lyrics, of the whole music video. I don't want to make people fight because of the video, I want to connect people, so that those who love it – who love the person I portray – love the video and the people who hate the person I portray also love the video. So, it's about connecting people," he says.
Slakonja's former targets include Pope Francis, Slovenia's beloved basketball star, Goran Dragic, the country's Foreign Minister and celebrity chef Jamie Oliver.
"I just want to go with the flow," he says. "So next on the list is Donald Trump. And after Donald – Angela Merkel."
Klemen Slakonja, whose main job is acting at the prestigious Slovenian National Theatre, is hoping his newly-found popularity will attract sponsors to support #TheMockingBirdMan, his project to impersonate world-famous people.