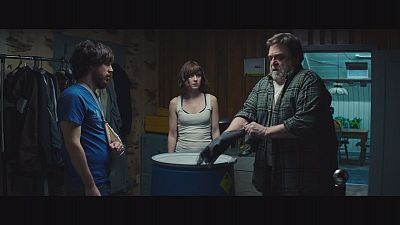 '10 Cloverfield Lane' is the latest film by 'Mission Impossible', 'Star Trek' and 'Star Wars' producer JJ Abrams.
This science fiction horror movie tells the story of Michelle, who, after surviving a car crash, is held in a shelter by two men, who claim a widespread chemical attack has made the Earth's surface uninhabitable.
The film recently premiered in New York City, where the veil of secrecy it had been shrouded in – a typical JJ Abrams' marketing technique – was lifted.
"You know, it's kind of fun because that J.J. has a master plan behind the whole thing, so as long as you just trust it's all going to work out, it's OK," said Mary Elizabeth Winstead, who plays the lead role. "There were times when I wanted people to know that I had done this really cool movie that they weren't aware of, but at the end of the day, I think I really like the idea of preserving the experience for the audience, and waiting for the last second and letting them go in blind and decide for themselves what they think about the movie," she says.
Most of the film is set in the cellar of Howard played by John Goodman, a quick-tempered survivalist with a 10-year stock pile of tinned food, who tells Michelle he saved her life and the air outside is unbreathable.
"It's about a guy who's let the fears of the world creep into his head and he's trying to manage it the best he knows how but it's obviously bent him. He's just trying to build a cocoon for himself and it involves, unfortunately, other people," says Goodman.
"She's plucked right into this crazy situation and she has to figure how to get out and she's active from the get go. Her brain is working a mile a minute. She's trying to figure out where she is, who these people are, if she can trust them or not and, if not, how is she going to get out," says Winstead of her role.
The sequel to Abrams' 2008 'Cloverfield' horror movie, '10 Cloverfield Lane', directed by Dan Trachtenberg, has opened to mostly critical acclaim in the US and is on global release now.