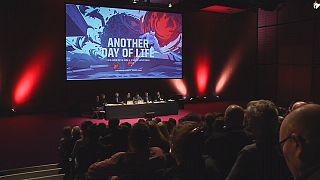 It's that time of year again when key players in the animation film industry meet in the French city of Lyon to try and bring together talent and funding.
Sponsored by the European Union's Media programme, Cartoon Movie is neither a fair nor a festival – rather, it is an opportunity for makers, producers and distributors to meet over pitching sessions with the hope of bringing films to life and to a screen near you.
Thsi year 56 projects were selected, including a growing number of films aimed at teenagers and adults.
Cartoon Movie director Annick Maes talked to euronews about the new trends in the animation film industry: "The tendency this year is that we have a lot of projects which target adults – this is very new. A third of the projects are for adults. We see that there is a change in public, in generation. We have a generation that's coming from (video) games and comic books and that is also interested in animation."
Seven years in the making, 'Another Day of Life' is based on the book of the same name by Polish reporter Ryszard Kapuściński. It tells of his experience during the Angolan Civil War in 1975. Helmed by Spanish filmmaker Raúl de la Fuente and Polish director Damian Nenow, the film is currently in production and is expected to be released next year.
"We never wanted to illustrate the book or make a film exactly as the story in the book," explained Damian Nenow. "It was always about Kapuściński changing from a reporter to a writer. From the very begining, 'Another Day of Life' was to be a hybrid format film, a mixture of animation and live action. It's more like a puzzle, where both layers complement each other."
One of the two completed films shown at this year's Cartoon Movie was 'Extraordinary Tales' by Spanish filmmaker Raúl García. Already out in the US, the film is seeking further distribution in Europe.
It is a collection of five stories based on Edgar Allan Poe's famous writings about obsession, guilt, madness and torment: "Terror is somehow visceral, something that animation can translate very well thanks to its capacity to distort and transform reality," said director Raúl García. "We need to further explore the animation market for this kind of movie, it's true that there are more and more films targeting adults and not just children."
Currently in production, 'Loving Vincent' is an ambitious project – it is the world's first feature-length painted animation. Every frame is an oil painting on canvas and the film has required the work of 60 artists on set in Poland.
With a plot based on the 800 letters left behind by Vincent Van Gogh, 'Loving Vincent' is directed by Dorota Kobiela and British filmmaker Hugh Welchman, who travelled to Lyon to promote it.
"Dorota Kobiela, who is the main writer and director at the project, she was a painter and then she discovered animation, fell in love with animation and around that time she was reading the letters of Vincent Van Gogh," he told euronews. "She thought his story was so beautiful, so extraordinary, that she wanted to bring his paintings to life to tell his story in a film and in that way she could combine her love of painting and her love of animation."
Among the 750 participants at this edition of Cartoon Movie were also the Canadian makers of 'Amoeba', a project still in development which is seeking distributors in Europe, and the creators of 'The Journey of the Elephant Soliman', a 3-D animated adventure set in 16th century India. Produced in Germany, it is aimed at a younger audience and set to be completed in 2018.
Since it started back in 1999, Cartoon Movie has helped fund more than 250 projects and has become the most important co-production forum for the European animation industry.