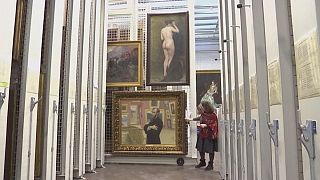 London's National Portrait Gallery and the State Tretyakov Gallery in Moscow are both marking their 160th anniversary this year. They have decided to celebrate by swapping treasures in one of the visual arts' biggest UK-Russian cultural exchanges.
The importance of the event is reflected by the stellar nature of some of the loans, including a national treasure like Ilya Repin's portrait of Modest Mussorgsky. The art swap takes place amid high political and economic tension.
"This exhibition, I would say, is a joint portraiture of the specifics of Russian creativity and originality of those people," says Tretyakov Gallery Director, Zelfira Tregulova. "Regardless how hard the times are, the contacts, the will to exchange, the will to cooperate between the museums, is very strong."
The trip from Russia to London comes first, with twenty six canvases rarely seen outside of Russia travelling to the British capital. Portraits included in the collection coming back to Moscow will feature two of the most prized possessions of the National Portrait Gallery: Queen Elizabeth l standing astride a globe of the world and William Shakespeare.
"There is great political tension, but on a cultural level, I think we're seeing extraordinary opportunities and collaboration," says Rosalind Blakesley, curator of the exhibition at the National Portrait Gallery. "There are other shows coming up in London next year which show Russian museums and galleries having very detailed, ambitious, long-standing plans with British institutions and bringing those to fruition."
Russia's Tretyakov collection runs at the National Portrait Gallery from 16th March until 26th June 2016. Artworks on loan from London will be on show in Moscow from 21st April until 24th July 2016.