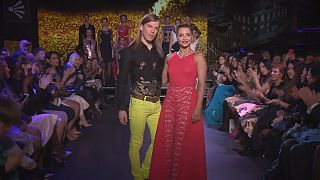 Paris Fashion week took a turn down the road of weird and wonderful with the Hells Bells collection by Indian fashion designer Manish Arora.
The New Delhi-based designer made his name as creative director at the French fashion house Paco Rabanne between 2011 and 2012.
For this collection, he drew inspiration from an American TV series and a German confectionery company.
"I thought how would it be if Twin Peaks would be on Haribo, like a sweet, gummy Twin Peaks. And that's how I began and then we thought of Americana-suburban then we thought of Africa and then of course, I go to Burning Man [Festival] every season. So all that put together is what comes out in this collection.
He added: "I think for me fashion is about being creative. I think fashion is not fashion if it's not creative. It's very important, at least for myself. I need to be creative to be inspired to make something new every time. Like, I could never make black clothes for example."
Arora's range went from classic Americana with snake skin cowboy boots and prairie skirts to Rockabilly pin ups and African wax-print fabrics.
Outfits were decorated with fur trim, feathers and sinister jewelled face masks complementing good old fashioned American style and his surrealistic touches.
From surrealism to chic and cheerful, Christophe Guillarmé entitled his winter collection "Psyche".
It was designed to explore the duality between conscious and unconscious appearances.
Versatility is expressed on gowns such as a maxi target pattern in lasercut, or as an interlace of striped jacquard on a silk taffeta.
Colours ranged from pigment-dyed lace in beige or amethyst, to stately ruby red, also navy blue which is becoming the new black, not to miss as well touches of soft pink to finalize this palette with lots of graphic accents.
For Guillarmé, versatility and unconsciousness are fused together in an retro glam rock mix.