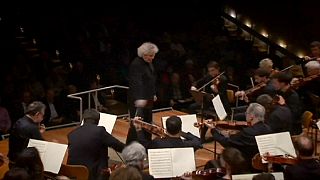 Berlin hosted a special classical concert at the city's Philharmonic Hall exclusively for refugees and volunteers.
The fact that they are playing for us is truly indescribable, thank you.
The evening, entitled "Welcome Among Us", was a collaboration of the three main symphonies in the capital and was intended to contribute towards solidarity with refugees.
Argentine-Israeli pianist and conductor Daniel Barenboim spoke on the performance.
Daniel Barenboim, conductor: "Music is not just a question of entertainment, but it has a mental purpose. I would like for all refugees visiting the concert to not only open their ears but also their souls."
The concert was under the patronage of German Chancellor Angela Merkel who has repeatedly defended her open-door policy for migrants.
Concertgoers expressed admiration for the initiative of the three orchestras.
Maja Musaweh: "It was beautiful, very, very nice."
Another concertgoer added: "Thank you very much for the behaviour of the Syrian and Afghan refugees, and all the others, we thank you very much, the day was great and the music was great."
Raman Khalaf, a Syrian who arrived in Germany three years ago: "Today, the musicians have invited us. The fact that they are playing for us is truly indescribable, thank you."
Hamed Husseini from Afghanistan: "Thanks to all the people of the German government to give us the opportunity to see this concert here."
Sir Simon Rattle, principal conductor of Berlin's Philharmonic Orchestra since 2002, has been moved by the refugee crisis.
Sir Simon Rattle, conductor: "I'm not really the person to talk about politics. But still, we should not be living in a world where many millions of people are being displaced from their countries and have sometimes no possibility of where to go. And I have to say how proud I am and how proud we all are of being in a country which has really done something to help in this terribly difficult situation."
Germany changed the political spectrum across Europe last year by welcoming over 1 million asylum seekers from Syria, Afghanistan and elsewhere desperate to escape war and poverty.