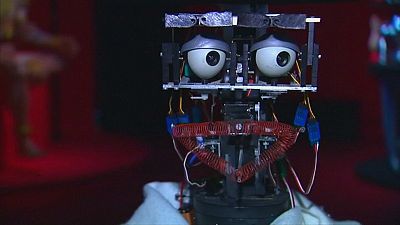 Visitors to Paris' Quai Branly museum of indigenous art might be surprised to bump into an unusual looking guest: it may not look like one, but this little robot in a bowler hat is an art critic.
It is programmed to record the reactions of visitors to works of art and then use the data to develop its own taste, which it expresses with a simple smile or a frown.
Named Berenson after the American art critic Bernard Berenson, it is the brainchild of robotics engineer Philippe Gaussier and anthropologist Denis Vidal.
"It adapts itself to its environment on the basis of this artificial taste," explains Vidal. "The aim is to develop in a robot the equivalent of aesthetic exploration of the world. So what we are doing now is we are developing different robots with different tastes – artificial tastes – and we are trying to see if they can explore the world around them in more interesting ways."
The robot sees through a camera in its right eye. Its likes and dislikes are represented on a computer by a complex system of connections in a multi-coloured web, which works much like neurones in the human brain. Positive impressions appear in green, negative impressions in red.
Dressed up with a hat, coat and scarf, the elegant little robot has drawn mostly positive impressions from visitors.
"It's somewhere between a robot and Charlie Chaplin. It's quite strange, I find it rather funny," said one visitor from Toulouse.
"Well it's funny," said another. "And there's something in its eyes that calls out to me. It's like a link between the human and the machine."
The robot is part of an exhibition at the Quai Branly museum called 'Persona: Strangely Human', which looks into the human personification of objects. The show runs until mid November.