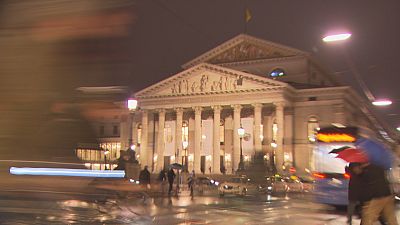 Czech composer Miroslav Srnka has been working for seven years on his opera "South Pole," bringing the epic 1910-1912 race to the Antarctic on stage.
"The Antarctic is a real place… but it is so remote from the civilisation that it actually feels surreal, and this makes a link to the opera stage and to the theatre space in general, which always has to have a certain amount of stylization," says Srnka.
"The concept was that we should hear the impact of the orchestra music on the singers on stage. And as the orchestra music gets increasingly pure and fine, we start concentrating on the voices," he explains.
Tenor Rolando Villazón, who plays Britain's Robert Falcon Scott, adds: "It's beautiful how the more you work on it the more it gets into your system, into your brain but also into your body and the more you can then feel the music."
Baritone Thomas Hampson — Norway's Roald Amundsen on stage — says: "I think new operas are important and I think we should support our composers and our librettists. We must let them mature and write new pieces. We must write more new operas."