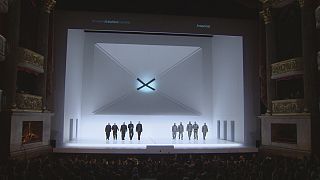 The epic race to the South Pole between Britain's Robert Falcon Scott and Norway's Roald Amundsen has all the ingredients of an operatic tragedy.
I think Scott is very patriotic, more than Amundsen. I think he believes that he is doing this for the king and for the country
The rival expeditions in the early 20th century are at the heart of "South Pole," a new opera staged by Hans Neuenfels.
A world-class cast hit the stage for the world premiere at the Bavarian State Opera in Munich, with baritone Thomas Hampson as Amundsen and tenor Rolando Villazón as Scott.
"These two men go to the unknown to try to discover the last place on earth that is there to be discovered," Villazón told Musica. "They go into this fight with this macrocosm, but at the same time — and we see that in the opera — these two characters are also going through a fight… an expedition inside of themselves."
Tonight's the night! World premiere of SOUTHPOLEbay_staatsoper</a>.<br>✨In bocca al lupo to my fantastic colleagues!!! ✨ <a href="https://t.co/H9Z8DDZFAk">pic.twitter.com/H9Z8DDZFAk</a></p>&mdash; Thomas Hampson (thomashampson) 31. Januar 2016
The singers worked closely with Czech composer Miroslav Srnka, who tells the story of the two explorers simultaneously, in this 'double opera' staged by Hans Neuenfels.
"For me the most important thing was the time space of the story and the double story itself, which means that we have two teams at the same time, one which are only baritones and one that are only tenors," Srnka said.
The hero and the idealist
Thomas Hampson likened Amundsen to a hero. "I'm very much in admiration of what he achieved in his life," he said. "Amundsen has edges. He is very clear, he is very sharp, he is very determined, he is very focused, very disciplined. So the music, I think, my music, reflects that."
Scott, meanwhile, is more of an "idealist", said Villazón: "I think Scott is very patriotic, more than Amundsen. I think he believes that he is doing this for the king and for the country."
Both explorers are obsessed with reaching the South Pole, but perhaps even more obsessed with their rival and how his own journey may be going. Hampson said this highlighted the "fundamental respect" that Scott and Amundsen had for the other.
In the end, Amundsen was the first one to set foot on the South Pole. Scott arrived 33 days later, and tragically died with all of his team on the return journey.
Hampson said Srnka's score skilfully conveyed the cold and the wind that took their lives: "That's quite an achievement in the musical language," he said.
Villazón certainly put his heart into depicting how Scott froze to death: "What happens is that the soul of these characters becomes smaller and smaller and so you stop singing and you start to speak," Villazón said. "And it's just a desire to sing."
Incredible triumph last night at bay_staatsoper</a>! <a href="https://twitter.com/hashtag/BSOSouthPole?src=hash">#BSOSouthPole</a> <a href="https://t.co/RZOMPCAuBq">pic.twitter.com/RZOMPCAuBq</a></p>&mdash; Rolando Villazón (RolandoVillazon) 1. Februar 2016
Thrilled to have been part of #BSOSouthpole at bay_staatsoper</a>! THANK YOU for all the enthusiasm, Munich! <a href="https://t.co/m0SYhph4IJ">pic.twitter.com/m0SYhph4IJ</a></p>&mdash; Thomas Hampson (thomashampson) 31. Januar 2016