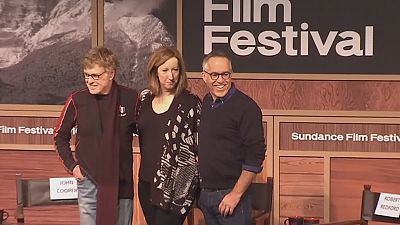 Park City, Utah has become the home of Sundance. Now there's a word which has a particular resonance with those who remember the movie Butch Cassidy and the Sundance Kid.
The film festival of that name which started back in 1978 has, over the decades become the most important festival for independent films.
From lowly beginnings it has now become a media circus and attracts the Hollywood celebs.
"Films are getting better and better each year. Independent filmmakers are getting more accomplished. There's more product. There's more interest. The bigger concern is the place and how we can continue to be here. I am starting to hear some negative comments about how crowded it is and how difficult it is to get from venue to venue when there's traffic and there's people in the streets and so forth. It's harder for people. Then you start getting a little bit of a negative reaction. So we don't want that," opined actor Robert Redford.
On show was a new film about Barack and Michele Obama called "Southside With You".
Excited, nervous and excited to present our film #southsidewithyou to sundancefestival w one of… https://t.co/I0VQMpWjYt

— Tika Sumpter (@iamtikasumpter) January 24, 2016
It stars Parker Sawyers as Barack Obama and Tika Sumpter as a then Michelle Robinson. The movie re-imagines the couple's first date.
" I just wanted to see an intelligent woman and, of course, we don't see many love stories with black people falling in love, kissing, courting. That's what I love about this. It is not blatant like!' She's like 'no'. He's got to work hard," said Tika Sumpter.
"Mr Pig" a film from Mexican director Diego Luna had its premiere at the festival.
It is a personal story about fatherhood, our relationship with animals and Mexico.
"Sundance, it's a great reminder of how things should work. Over here, I don't think no one has asked me what's the nationality of may film and what am I doing here. Who am I representing? No one. This is about voices. This is about specific point of views. That's film," said the director.
A surprise screening at Sundance was the story of "Eddie the Eagle" – Michael Edwards who dreamed of becoming the first competitor to represent Great Britain in Olympic ski jumping.
Australian actor Hugh Jackman takes on the role of coaching the hopeful in which nobody else believes.
Is it a bird? Is it a plane? No, it's TaronEgerton</a> as <a href="https://twitter.com/hashtag/EddieTheEagle?src=hash">#EddieTheEagle</a> in the new poster of <a href="https://twitter.com/Dexfletch">Dexfletch's Sundance hit pic.twitter.com/WOfGUCMJ1W

— Empire Magazine (@empiremagazine) January 28, 2016