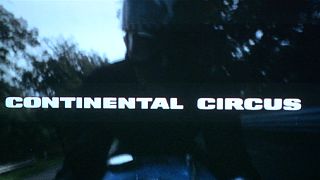 The Institute Lumiere in Lyon was the venue for a preview of the film "Continental Circus". It is a movie which captures risk, bravery and daring of motor bike racers and in particular Giacomo Agostini a legend on two wheels and 15-times world champion.
The film was screened for the first time in digital at the third Festival of Sport, Literature and Cinema.
The movie takes its title from the riders battle for glory during the 1969 – 1970 season which was dubbed at the time by the competitors as "Continental Circus".
It focuses on the rivalry between Agostini and Australian Jack Findlay who was destined to be second to the Italian and who raced as a privateer during his long career.
The director was Jerome Laperrousaz who in 1972 was awarded the prestigious Prix Jean Vigo which recognises "a distinguished French director for independence of mind and the quality of its realisation."
"I wanted to show the subjective view of the riders, what they were living when piloting a motorbike at 200 or 250 kilometres an hour, the vision of space they had and I decided to put cameras on their helmets, on the handlebars to see the riders face when he was racing, cameras on the clutch or brake to see how they worked, or the gear selector. This was an innovation which was not done at all during that time," the director told euronews.
Continental Circus highlights the risks which the riders faced on a daily basis to live their passion. Many in the film died during or after shooting.
The soundtrack also helped elevate the movie to cult status.
"I worked hard on the sound and that is also a reason why the film has become part of the rock culture today. I worked with David Allen of Gong part of the Soft Machine at the time. And David truly was a pioneer of sound. David Bowie who has just died said he was influenced by the work of David," explained Jerome Laperrousaz.
The film which has not been seen for a while or just on VHS was scanned and cleaned for a second life in Blu-Ray DVD and in theatres.
And don't miss Euronews exclusive interview with Giacomo Agostini in our sports programme in which the rider recalls his life on the bike then.