''I was born to race'' - 15-time motorcycle world champion Giacomo Agostini
Comments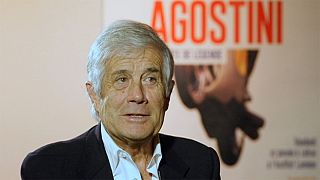 Giacomo Agostini is an Italian multiple world champion in motorcycle racing.
At the end of a glittering career that spanned some 13 years Agostini had amassed a record-breaking 122 Grand Prix victories and no less than 15 World Championships titles – also a record.
Agostini – now 73-years-old, is considered one of the greatest motorcycle racers of all time.
Euronews' Bruno Sousa caught up with this living legend in Lyon, France to talk about his illustrious career.
'I was born to race'
Euronews: ''Giacomo Agostini thank you very much for this interview. When did your passion for motorbikes begin?''
Giacomo Agostini: ''I think I was born to race bikes. When I was a child all I could think about was that my job would be riding bikes, competing in races. I started doing gymkhana (similar to autocross), some small competitions, because my father wouldn't let me enter the big races. He would always say it was too dangerous, that he wouldn't sign the required authorisation forms. One day, a friend of my father's, who was a Lawyer, asked me why I was sad. I told him that I wanted to race and he managed to convince my father to sign the forms. Then he made a mess of it because he thought I wanted to race bicycles, not in motorcycles. I bought a nice motorbike, I entered the races and I started to win straight away. It was the begining of my career.''
E: ''Who were your motorcycling heros when you were young?''
GA: ''When I was young I followed two Italian riders, Carlo Ubbiali and Tarquinio Provini, they won a lot of world championships. I got to see them two, three times on the track and I thought I would really love to be like them.''
E: ''When did you realize that you were better than the other riders, that you had an enormous talent?''
GA: ''I didn't know, I just had the passion and the love for bikes. My father always asked me "what are you going to do? there are lots of champions in there." And I would say I wanted to race because I just love the bikes. When I started winning, I started thinking to myself, maybe I am good. But I never thought that I would be a world champion, let alone fifteen time world world champion. I'm happy about that because I was lucky.''
E : ''Between 1968 and 1970 you won every single race you entered in the world championship. How did you keep your motivation, your focus?''
GA: ''It's very hard to win a world championship and even harder to repeat it. The podium is like a drug, you feel good in there. You feel good when you're on the top spot of the podium. I think each and every race tells a different story, that's why when you win a lot of races, you always want to win more. It's always a different feeling.''
E: ''You just told me that winning was like a drug, but at some point you have to quit. How did you realize it was time to give the bikes up?''
GA: ''It's always difficult to take such a decision. You must think hard about it, but years go by and you must give the younger riders an opportunity to take your place and have a go themselves.''
E: ''Were you ever tempted to return to the world championship circuit?''
GA: ''No because it was too hard to make the decision to stop. If I had just stopped, why would I want to go back? In that case, I wouldn't have stopped in the first place.''
E: ''After motorcycling, you had a brief experience in Formula One. How did the two compare?''
GA: ''I had been given the chance to enter Formula One races before, at the halfway stage of my career. Mr Enzo Ferrari gave me the opportunity, I thought hard, for two or three days, and I decided to stick to the bikes. Bikes were my true love, where I started and what I continuously thought of when I was young. To change would have been selfish, I would just be someone who wants it all. God had already given me something, I had to be happy with that. However at the end of my career, when I quit the bikes, I wanted to try racing in Formula One just to see how the driving felt like. It was a good experience.''
E: ''You raced in the 350cc and 500cc categories at the same time. Do you think it's possible for a rider to do that today?''
GA: ''Yes, it is possible. Only that today the riders don't feel like it. They are happy to compete in one class and they get a lot of money for doing just that. They don't need to race in another class. Back then it was normal, everybody did it, either the 125cc and 250cc or the 350cc and 500cc. They stopped doing it, although Freddie Spencer competed in two classes, showed it was possible and won them both (he was the last driver to do it in 1985). But riders today don't really feel like working that hard anymore.''
E: ''Last season, 2015, was one of the most exciting seasons in recent times but had an anti-climatic finale. What's your take on the incident involving Marc Marquez and Valentino Rossi?''
GA: ''Everybody wants to win so it's hard to take part in a race and be a gentleman, you always have to be aggressive. Rossi and Marquez had a little misunderstanding, they got angry but it happens. Just like it did in my racing days. It's not great but it happens.''
E: ''Can anyone break your records?''
GA: ''Records are made to be broken. Maybe one day somebody will do it, maybe Valentino or Marquez, he (Marquez) is still very young, so I don't know if I'll be able to see it when he does it.''
E: ''If you could change one thing in motorcycle racing today, what would it be?''
GA: ''I'm not a big fan of electronics, I preferred it when the rider did all the hard work, not the electronics on board. Maybe it's because I'm not used to it. For the young riders, who've have grown up with it from the begining, it would be hard to change.''