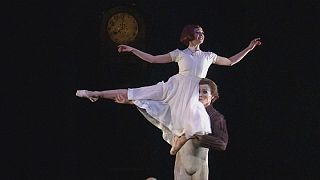 The Nutcracker has returned to the Royal Ballet of Flanders after an absence of 16-years, but with a modern twist.
Argentinean Demis Volpi is the choreographer. The show has been stripped away from its typically imperial and grand family scenes.
Volpi said he instead wanted to show private celebrations of a traditional German family Christmas. He has taken Petipa's original version of the ballet as a starting point, but added his own interpretation of the music of Tchaikovsky.
"When I looked at the score, I realised that there were a few structural problems with it for it to work in our understanding of theatre today. So I had to make some adjustments, I had to reinterpret the music, and I did that by informing myself always by the Hoffman. So going back, when I didn't know what to do, I always said: "well, what would Hoffmann have done?" or try to pull it back there. So it's somewhere in between, really, the original story and the ballet story," explained Demis Volpi.
New Nutcracker at Royal Ballet of Flanders by Demis Volpi https://t.co/BxxV5j7bau

— naomi (@naomip_86) January 25, 2016
The fairytale is presented with a darker side and a Freudian world which sees the young Clara, played by 26-year-old Nancy Osbaldeston transition to a woman.
"It's not as strict as a huge classical production but it still has the gentle qualities of a story and it's a really cool story, I think," the dancer opined.
A further twist in the performance is how the Nutcracker, played by 27-year-old Laurie McSherry-Gray, is shown as both a doll and a human being.
"To dance the Nutracker as a doll is unusual. Usually, the Nutcracker is displayed as a little doll and then when the doll becomes a human I, the dancer, will dance lyrically. But in this version, the doll is life size, so it's been a great opportunity to actually work in a different style," said the dancer.
The premier of the Nutcracker took place on Sunday in Antwerp and moves to Ghent from February 10.