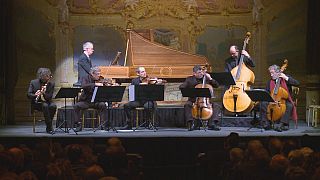 Founded in 2013, the Valletta Baroque Festival is the first major cultural event of the year on the island of Malta.
While it may sound like it's from another era, 17th and 18th century Baroque music has been experiencing a true revival in recent decades. Kenneth Zammit Tabona is the festival's artistic director: "In the last 4 years (since the festival was founded) we have seen a tremendous rise in interest in Baroque music. So it's not so far at all, it's very, very present. And in four years we have managed to establish this festival as one of the leading ones in Europe. Its' a new niche market."
'Le Concert des Nations' opened this fourth edition with Johann Sebastian Bach's 'Musical Offering' under the direction of Spanish master Jordi Savall.
"Like many other composers who emerged at the end of an era, Bach is someone who sums up all the wisdom and skill of his predecessors. At the same time he always tried to innovate. We bring the added value of playing his music with a more lively spirit because we also use improvisation, it's a very rich interpretation," Savall told euronews correspondent Wolfgang Spindler.
British baroque violinist Catherine Martin and Maltese pianist Joanne Camilleri are great fans of Bach and his composing technique. The pair performed Bach's Sonatas for Violin and Piano at Valletta's Teatru Manoel – built in 1731, it is one of Europe's oldest working theaters and a perfect venue for the festival.
"He was a very mathematical person, he made sure that all his music was structured properly before he actually wrote it down on his manuscript, so even the number of bars have a meaning for him," explained Joanne.
"And also – that's been the real challenge for us – to be able to analyse the music before you learn it or while you are learning it," added Catherine. "We talk about that but, of course, when you perform it, you don't want to perform mathematics, you need to present something that everyone is going to enjoy and that we're going to enjoy."
With their energetic and passionate performance, the Abchordis Ensemble conquered the audience at Valletta's St Mary of Jesus Church. Founded in 2011 by ten young musicians from around the world, the ensemble seeks to recreate the authentic interpretation of music performed on period instruments.
"In recent years, more and more young people have been playing baroque music. Works by European masters have been gradually rediscovered over the past thirty years. What brings us together is our passion for baroque music and we have decided to play pieces never performed before dating back to the 17th and 18th centuries," explained Andrea Buccarella, director, organist & harpsichordist.
The Valletta Baroque Festival – an event that shows Baroque music continues to fascinates musicians and music lovers young and old.