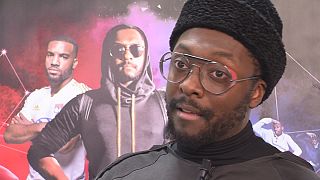 Euronews recently caught up with seven-time Grammy award laureate Will.i.am as he performed in the French city of Lyon. The co-founder and frontman of the Black Eyed Peas talked to us about his childhood in a poor Los Angeles neighbourhood.
Educating people, I think that is the best gun control.
In order to go to a good school, the young William Adams would travel two hours a day to another part of LA. The artist is now on a mission to make science and engineering as appealing to young people as pop music.
"I went to a great school, and the neighbourhood that I come from wasn't the best neighbourhood. While I travel I learn a lot and meet awesome folks and those folks that I meet have great programs a lot of the times, so I've corralled a bunch of different programs like robotics and GIS (Geographic Information Systems) and coding,
and getting kids on track to go to college, I put them all together and we teach our kids. We have this project-based learning program where we take a failing kid and improve their scholastics and now our kids have 4.0's and they're building robots and writing code," he enthused.
We asked the artist and entrepreneur about the state of the music industry. Pointing to the decline in revenue from recorded music that the industry has experienced for more than a decade, he said record labels should not be competing with each other but with the hardware manufacturers:
"Music making is the best that it's ever been," he said. "I could pick up my ipad and make a song like that (clicks his fingers), and if I wanted a million people to hear it, like that (clicks his fingers again), I could use the same tool. So 'Is music healthy?' Yes, music is healthy. Is the business healthy? No, it's not. Why?," he asked.
"The reason is the industry that I come from doesn't make hardware. Now, if we made the computers that make the music, then it would be great. If we owned the platforms that you share it on, it would be awesome. But we're not Google, our industry is not Apple, our industry is not, you know, any of the software App companies, we just have all the artists," he said.
Having worked with some of the biggest names on the planet, euronews asked Will.i.am who he would like to collaborate with most in the future.
"Right now the artists I want to work with are coders, engineers. I want to work with the new artists, people who build virtual experiences, so people in Bangalore, India, people in Israel, folks that are building these virtual reality experiences, people that build hardware for them, people that build Operating Systems and apps, I want to work with those types of artists. Music is great, but I want to create there," he told us.
Questioned on gun control, the rapper, who has himself lost friends to gang warfare, said there was only one answer: "My fight is education, because educating people, I think that is the best gun control," he said.
"An intelligent person that has opportunity and who can participate in how tomorrow is beneficial to everyone wouldn't even pick up a gun. So I think the best gun control is educating everyone, with equal opportunity to participate in tomorrow, to make the world a better place, starting at age nine – no, no, no, six."
Entrepreneur, philanthropist, tech geek or musician – whatever the label, Will.i.am doesn't looks set to take his fingers out of any pies any time soon.