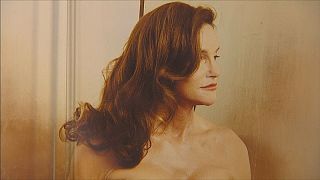 Her latest exhibition in London comes fifteen years after an initial show of portraits of some of the world's most famous women.
This time round, icons like Nobel Peace Prize winner Aung San Suu Kyi, singer Adele and Oscar-winning actress Lupita Nyong'o have agreed to pose for legendary US photographer Annie Leibovitz.
At the press opening, she explained why she moved on to shooting portraits after starting out as a photojournalist in the 1970's: "In journalism you're supposed to be very objective and in portraiture, you know, you can throw objectivity away. And you can have the empathy."
While she has captured many of the world's most influential men and women on camera, Leibovitz regrets not having had the chance to shoot David Bowie in her studio: "I photographed him (David Bowie) two or three times, you know, just in parting through his career but we never did a creative sitting, and when someone that great passes I just lament that I didn't have that opportunity."
'Women: New Portraits' by Annie Leibovitz is on display at Wapping Hydraulic Power Station from 16 January to 7 February.
After London, the exhibition moves on to nine other major cities including Tokyo, Singapore and New York.