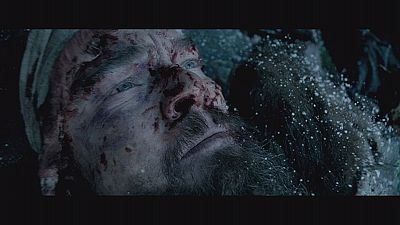 Inspired by true events, 'The Revenant' captures one man's epic adventure of survival and the extraordinary power of the human spirit.
In an expedition of the uncharted American wilderness, legendary explorer Hugh Glass, played by Leonardo DiCaprio, is brutally attacked by a bear and left for dead by members of his own hunting team. In a quest to survive, Glass endures unimaginable grief as well as the betrayal of his confidant.
The film is by award-winning Mexican director Alejandro González Iñárritu#: "Well, I think it's a story that really needed to be told. There's a lot of themes that are very resonant today: there's an exploration of revenge. There's a father-and-son relationship – a son that is suffering from racial prejudice. There's a lot of endurance, resilience. And it's an adventure. There are spectacular, epic, action scenes, but at the same time a lot of emotional moments of intimacy."
The film was shot in Canada and Argentina in harsh conditions described as a living hell by some members of the cast and crew. Iñárritu refused to consider the use of CGI as he wanted the film to be as faithful to true events as possible. And he only shot using natural light.
"I had never done a film where we rehearsed this much and every single day was like doing a little bit of theater," says Leonardo DiCaprio. "We had to work with the camera, work with all the different departments and specify exactly what we were going to do in the last hour and a half of magic light, which was the only time we really had to shoot every day. So it was this mad scramble. It almost felt like live television, but so much of that intensity I really think integrated its way into the movie, you know."
Described as a work of staggering quality by some, this violent film may not be to everyone's taste, however.
'The Revenant' is on global release now.