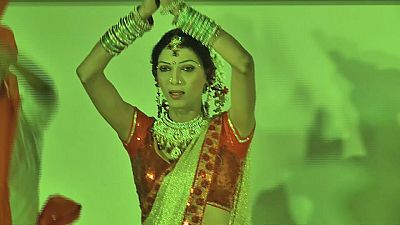 A Mumbai dance group led by transgender artists is using its performance to campaign for the rights of transgender people.
The group called the 'Dancing Queens' performs a medley of dance styles, including Bollywood hits, to spread awareness about what it means to be a transgender person in India. Their show tells the story of their struggle to be accepted in Indian society.
India's Supreme Court recognised transgender people as a third gender in a landmark ruling in 2014. But the transgender community continues to face social exclusion and discrimination in India's conservative society.
"At every step there is a struggle. You may be wearing a sari but you are not an original woman, you are not an original female, you are considered the third gender. To preserve your identity and who you are, to go along with it and face so much discrimination is not easy," says transgender activist and co-founder of the Dancing Queens, Urmi Jadhav.
Many members of India's male to female transgender community earn a living by performing songs and dances at weddings and births. The community's origins goes back millennia to a time when transsexuals, eunuchs and gays held a special place in society. Today, many are shunned by their families, face violence and are forced into begging and prostitution.
"Violence has increased, job opportunity have not. So whatever the Supreme Court has ruled, it is only on paper, it is not translated into action," says troupe leader and transgender activist, Abhina Aher.
The Dancing Queens recently held their biggest show for the top management of Godrej Group, one of India's leading companies, which has been working to become more inclusive of sexual minorities. The company has been organising events to discuss gender and sexuality through its Godrej India Culture Lab project.
"I think very soon you will see a lot of change, where LGBT employees are coming forward at the work place, where companies like us at Godrej are creating these spaces. Very soon you will see a lot more LGBT, transgender – specifically transgender – employees at the work place. And I think this change is coming about," says the Lab's founder, Parmesh Shahani.
An estimated three million people in India are transgender. While the court ruling has helped the transgender community win the legal battle for their rights, their struggle for social acceptance and inclusive work spaces is far from over.