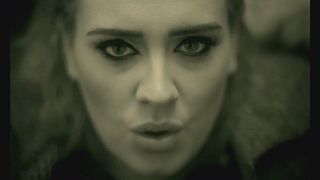 As 2015 draws to a close, it's time to review the year's biggest music hits.
And the winner is Adele, whose newly released "25" was the best-selling album. The British singer sold more than 3 million copies in the first week of its release, setting a record.
Adele has not made her third album available on streaming platforms such as Apple Music, Deezer and Spotify — following in the footsteps of Taylor Swift.
To no one's surprise, Adele</a>'s &#39;25&#39; topped iTunes&#39; list of best-selling albums in 2015 <a href="https://t.co/n9XqZOI5Ni">https://t.co/n9XqZOI5Ni</a> <a href="https://t.co/SuG9ehh4zn">pic.twitter.com/SuG9ehh4zn</a></p>&mdash; Newsweek (Newsweek) December 9, 2015
The song you couldn't escape
"Uptown Funk" by Mark Ronson and Bruno Mars was the year's biggest single. It was also the most played video clip, with more than 1.1 billion viewings.
Uptown Funk by Mark Ronson is the best selling song on iTunes in 2015 https://t.co/INEffeFKrjpic.twitter.com/c6YepGPClG

— Daily Mail Celebrity (@DailyMailCeleb) December 10, 2015
Björk glows with breakup album
In a different genre, "Vulnicura," Björk's ninth studio album, has been widely acclaimed by critics and has been nominated for the Best Alternative Music Award at the next Grammys, in February.
The Icelandic singer says she drew inspiration from her breakup with artist Matthew Barney.
Coldplay to play at Superbowl halftime show
'Adventure of a Lifetime' is the first single from Coldplay's seventh album "A Head Full of Dreams". For all its upbeat vibes, it has received mixed reviews, with Britain's Telegraph calling it pleasant but forgettable. Still, it's selling like hotcakes and Coldplay will perform at the Super Bowl halftime show next February.
.Coldplay</a> will headline the <a href="https://twitter.com/hashtag/SuperBowl?src=hash">#SuperBowl</a> halftime show: <a href="https://t.co/LtWoMJWNRK">https://t.co/LtWoMJWNRK</a> <a href="https://t.co/hqGrOdu2Da">pic.twitter.com/hqGrOdu2Da</a></p>&mdash; MTV (MTV) December 4, 2015
Love me like you do
Another bestseller was Ellie Goulding's "Delirium," the British pop singer's third studio album. Her single "Love me like you do" was recorded for the soundtrack to the film "Fifty Shades of Grey". It topped the UK charts for four weeks and peaked at number three in the US.
It has also just been nominated for a Golden Globe for best original song.
"Love Me Like You Do" has been nominated for a #GoldenGlobe for Best Original Song! #FiftyShadespic.twitter.com/GBGCCWgmCe

— Fifty Shades of Grey (@FiftyShades) December 11, 2015
PSY

is back and going viral again

Of course, how could we avoid PSY? The South Korean singer who brought us Gangnam Style is on track for another hit with his latest single "Daddy". The clip, with its own crazy dance steps, has been viewed more than 40 million times since it was uploaded on YouTube at the end of November.
Bieber beats the Beatles
Justin Bieber has been topping the charts with a string of smashing hits and has even beaten the Beatles with 17 songs in the US Hot 100 in a single week.
The 21-year-old Canadian singer will be taking his fourth studio album "Purpose" on a global tour next year.
You might want to sit down before taking this in…justinbieber</a> beats a 51 year old record set by the Beatles <a href="https://t.co/qW8b9Q6Uyx">https://t.co/qW8b9Q6Uyx</a></p>&mdash; Viking FM (VikingFM) November 24, 2015
Madonna shines on world tour
Madonna's 13th album, "Rebel Heart", came out in March and has been well received, with some critics calling it her best effort in a decade.
The pop queen is now on a tour that has already taken her to Barcelona, London and Paris and will go on to East Asia and Australia by next March.