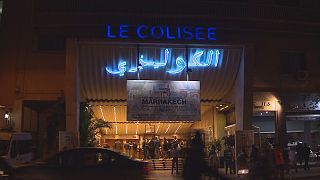 The Colisée in Marrakech is one of just 31 cinemas catering to Morocco's population of 33 million.
But while the country suffers from severe screen shortages#, local films to do well at the box office: five of the top ten films this year were Moroccan.
This substantial presence in the local box office is not echoed abroad, where Moroccan cinema struggles to sell. The director of the Moroccan Cinema Centre, Sarim Fassi Fihri, says it has a lot to do with the global dominance of the US film industry: "On a global scale, we experience the same problems as any other national cinema industry. Look at any country today and you will find the presence of both local cinema and American cinema. It's hard to penetrate commercial channels because of the dominance of American cinema but as soon as you leave these channels, you sense a real interest in Moroccan cinema like in any other kind of cinema."
However, while few Moroccan movies succeed abroad, the country has long been a prime destination for foreign movie makers. There's a very good reason for this according to Belgian director Joachim Lafosse: "I have made two films in Morocco, well partly in Morocco. Well, Moroccan technicians are exceptional, because they see a lot of American, French, Belgians who come and shoot in Morocco, so they are very experienced. When you talk about Moroccan cinema, I think you first have to talk about the technicians. Then,. there's the artistic side of Moroccan cinema, and I think there are some very interesting things that have emerged over the past ten years."
Over the past fifteen years, Morocco has seen the emergence of a new generation of filmmakers, fulled by growing support from King Mohammed VI, an avid cinephile. Euronews asked veteran film director Saad Chraibi what Moroccan cinema has to offer.
"First, its diversity. Out of the 20 or 25 films produced in Morocco every year, you have commercial movies, comedies, auteur films, art house movies, films that deal with social issues, that diversity is a valuable asset," said Chraibi. "The second asset is the legacy from one generation to the next. Personally, I am confident, because I know that in 5, 10 years, young men and women will take over the future of Moroccan cinema."
Jawad Rhalib is part of this new generation of Moroccan directors. An outspoken filmmaker, he has made a series of documentaries and fictions that focus on human rights, pollution and globalisation. His latest movie 'Rebellious Girl' was among the 15 films in competition at this year's Marrakech Film Festival.
"I made a film called '7, rue de la Folie', a film that dealt with secularity, about girls who want to emancipate themselves from the dictatorship of their father, so these girls refuse to pray, they drink alcohol, etc. Well, to everyone's surprise, this film was well received here (in Morocco), especially in Agadir. The cinema theatre was filled with veiled women and bearded men. The whole team was there for the screening, and we thought, 'We're not going to get out of this cinema alive!', well to our surprise everybody was clapping, everybody was pleased with the film, they were open," he told us.
While freedom of speech is vaunted as one of the strengths of the Moroccan film industry, placing the country at the forefront of the Arab world in terms of artistic freedom, the recent ban of Nabil Ayouch's film 'Much Loved', which chronicles the lives of four prostitutes in Marrakech, has divided public opinion and raised the question of where the red line exists when it comes to freedom of expression.