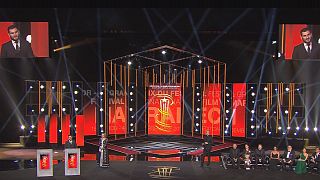 The Marrakech film festival has come to a close after awarding the top Golden Star to a first film from Lebanon ''Very Big Shot'. Mir-Jean Bou Chaaya, who directed the movie, paid homage to his homeland In his speech: "Thank you. I am giving this prize to my country, Lebanon, my country which, sadly, doesn't believe in us, but in which we will always believe."
Best Director went to Brazil's Gabriel Mascaro for his second film, 'Neon Bull'.
"When I discovered that my film was selected for this festival, it was like 'Oh my god, it's amazing', explains the 32-year-old. "And then, I discovered that Coppola was in the jury, 'Oh my god this is a big prize.' And then to come here and spend a lovely week with other film directors, meet amazing people and then receive the Best Director from this amazing jury, it's really amazing, I have no words to express my feelings, I'm very happy, it's very special."
Iceland's Gunnar Jonsson received Best Actor for his role as the gentle giant Fusi in 'Virgin Mountain' by Dagur Kari while the young French actress Galatea Bellugi picked up the Best Actress award for her role as a teenager who falls pregnant and decides to keep her baby in 'Keeper'.
@FIFM2015 Jury member @OlyaKurylenko gives the best actor award to Gunnar Jonsson for the film "Virgin Mountain" pic.twitter.com/T04EZcBLlW

— SuperrCoo (@SuperrCoo) 14 Décembre 2015
Finally, the Cinecole prize for best short movie went to the young film school student Reda Jai for 'The Girl who came from nowhere'. The prize is aimed at boosting young filming talent in Morocco.
2015 has been a very rich festival, according to its artistic director Bruno Barde, who told Euronews he watches some 1,000 movies each year in his quest for festival contenders: "I look for films that are crying out for cinema production and where there is a desire for cinema. It's interesting to note that the established countries of Old Europe, like France, Italy and Spain find it hard to make films that are not in television format, and to make films that need cinema production. I have found a lot more films in Kazakhstan, Iceland, Denmark and countries like that, where they want to reinvent the grammar of cinema".
The master classes held in Marrakech are a valuable opportunity for young filmmakers and the public to meet experienced directors. Iran's most acclaimed director Abbas Kiarostami was delighted to talk about his filmmaking and his sources of inspiration: "All I can tell you about my work is what I do: I don't take inspiration from cinema, literature, novels or any form of writing, I just look around and observe life.
Launched by King Mohammed VI, this festival has been a visible force in the country's process of modernisation. Over the past 15 years Morocco has provided a new generation of filmmakers. Sarim Fassi Fihri, the head of the Moroccan Cinema Centre, hopes this is just the beginning: "My dearest wish is that within five years we will be able to conquer those invincible citadels that are the official selections in Cannes, Berlin or Venice, because since Othello we haven't had a film in the official selections in Cannes and it would mean recognition for Moroccan cinema to be there."
Looking ahead to next year's festival, the organisers are aiming to increase the festival's role as a platform for forging closer ties between foreign professionals and Moroccan cinema, with a growing number of workshops with distributors, sales agents and professionals.