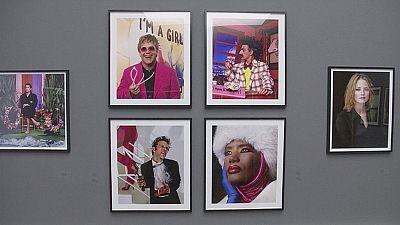 Over the last three decades American photographer Greg Gorman has photographed some of the world's most famous people.
He has taken portraits of Hollywood stars Elton John,Leonardo DiCaprio and Julianne Moore, as well as rock legends such as Mick Jagger and Iggy Pop.
An exhibition of 25 of his photos is currently on display at the Museum of Photography in Berlin.
The portraits are very intimate.
"I try to spend as much time with the people as possible prior to photographing them," Gorman told euronews. "Kind of getting them to come up or down to my level so that we are kind of connecting and make them feel, you know, confident. To win their trust and confidence is probably one of the most important things. I try to involve them a lot in the shoots so that they feel like they are a part of the team. And when they get a chance to see what I'm doing it makes it easier for them to relax and open up a little bit."
Gorman is better known for his black and white photographs so this is the first time that his colour photos have been shown in Germany.
Gorman's exhibit is running in tandem with Helmut Newton's fashion shots.
Newton was born in Berlin in 1920 to Jewish parents, he worked as a photography assistant in Berlin before the rise of the National Socialists under Adolf Hitler forced his family to flee to Australia.
After the war he returned to Europe, working as a fashion photographer for Vogue in Paris, establishing himself as one of the world's best known fashion and lifestyle photographers.
The exhibition, featuring over 500 photos, is not only a showcase of Newton's masterful photography skills, but also an investigation into the trends in fashion over the decades.
"I think it is because of the range he brought to the magazines, many different approaches and always surprising," said Matthias Harder, curator of the Helmut Newton Foundation. "And because he always surprised he continued to always get booked for shoots, and that was the case until the end of his life. That is very unusual for a photographer, even when you compare it to other major names in the history of fashion photography."
Gorman's and Newton's photos can be seen at Berlin's Museum of Photography until May 22 next year.