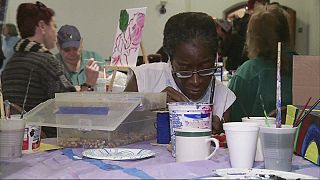 They have come off the streets to create. Art for the homeless is a weekly class at the Emmanuel Episcopal Church in the city of Boston. Many of the artists expressing themselves by painting have no home to go to.
Chris Haubrich first dipped a brush in paint around 10 years ago and since then has been developing his artistic side.
He was homeless when he started but even though he has found somewhere to live he still takes part in the class. He has spent around 23 years on and off the streets.
"Homeless life is very hard . It's harsh out there, inclement weather, dangerous people. But this is a positive energy and it shows people that not all homeless people are bad, drink and do drugs. You know a lot of us are actually trying in life and it refocuses us into something positive and then we move on with our lives to a more positive situation," he explained.
Danita Clark, who is homeless added: "You can live 10 days without water, 30 days without food, but not one second without hope."
The creative work not only gives the homeless a chance to boost their self-esteem but also to make a little cash. Some of the art is for sale on the racks placed on the pavement outside the church.
"I think that once they feel that they have a loving community that supports them and they recognise their potential as a creator, a maker, I think they see that there is a reason for them to keep fighting, there is a reason for them to fight for housing, there is a reason for them to battle the addictions and all the things that pull them down," opined Heidi Lee, Artist in Residence for the Common Art Programme.
As winter approaches, attendance at the 'Common Art' programme has increased. Now as many as 100 homeless and low-income people turn up each Wednesday to paint, draw, knit, sew, fashion jewellery or take part in other craft making.