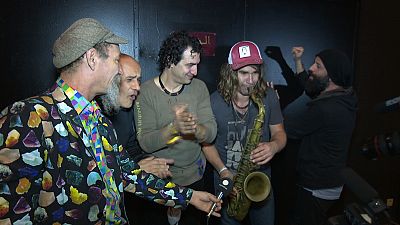 Istanbul in Morocco. The band that is – "Istanbul Sessions". They were in the city of Rabat to present their work at the "Visa for Music" fair, euronews cultural reporter Wolfgang Spindler met the musician.
Ilhan Ersahinis who grew up in Sweden with a Turkish father and now based in New York leads on saxophone, he's also a composer, music producer, club owner, proprietor of his own record label and festival curator.
He started working with his band, who are all based in Istanbul back in 2008. The style, the music reflects the man – eclectic.
"We try to find our own music, we don't play Turkish music, we don't play ethnic music, we don't rock, we don't play electronic music. We are trying to somehow consciously find our sound and that's what we are working on," he explained.
His band all have impressive CVs the bassist Alp Ersonmez regularly plays with Turkey's biggest pop star, Tarkan.
But it is the city itself at the crossroads of Asia and Europe which provides the inspiration and mood for the band.
"To me what is exciting about Istanbul and the Istanbul's music scene, there is Gypsy side to Istanbul, there is a Kurdish influenced side of Istanbul, there is a Balkan side, there is Western/Turkish side, this classical Turkish side, so its really like a lot of different feelings and languages and scales combining to one kind of big melting pot. I think that's why I keep going back to Istanbul because its just exciting," Ilhan Ersahin enthused.
At "Visa for Music" the band played some tracks from their latest album "Istanbul Session – Underground".
The album owes much to the city's night life.
"In Istanbul usually the concerts are very late, usually you start playing at midnight or at 1 o clock and we go to two three and after that we go to another after-party and after that we hang out and then we have breakfast at 7 in the morning. So usually we have late nights when we play there. And this record was kind of inspired by the night life, the underground life at the same time it has more a little rock attitude because we have been playing a lot big stages laterly so it just kind of taking the instrumental music to a next level," Ilhan Ersahin concluded.