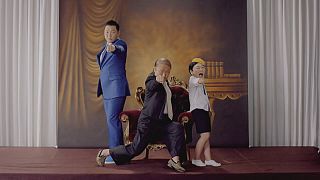 He's back and with that distinctive style it could only be…..yes Psy. Remember him? Singer, songwriter, record producer and rapper. Oh and the man who brought "Gangnam Style" to the world.
It's a new album from the singer whose real name is Park Jae-sang. He thought about introducing English lyrics into this his seventh album.
"The thing I write a good lyric in Korean but honestly I can speak English. I cannot write English lyrics that well, as well as Korean. What I thought was, 'I got to find something in between'. That in between comes out in the single 'Daddy'. And 'Daddy' has half and half Korean and English. So that's what I found something in between," he explained.
"Gangnam Style" has helped make Psy a multi millionaire and while travelling round the world preforming his mega hit the 37-year-old struck up friendships with various artists. Some have ended up collaborating with him on the new album. Among them will.i.am and Ed Sheeran.
"Will and I met in 2013. It was in 2013. It was at Wembley Stadium and it was a summer ball festival for a British Radio station. It was a big show. I suggested to Will 'let's do Pumasi, go back and forth. So I feature on his song and he features on my song and we made a deal.
'Ed released this single called 'Sing' and he made a lot of interviews about me. And he said he got motivated by hanging out with me at the karaoke. So after I heard the song I really loved it. Besides he got the motive from me. I thought about maybe I can give him a reply by remixing this and I did that."
The album also features well known Korean stars like Zion T and Junsu of the K-pop band JYJ. The title of his latest release translates literally to "This is Psy's Seventh Album". It includes nine tracks ranging from hip-hop to punk.