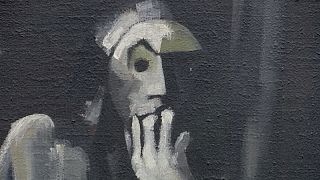 "The Black Rooms" is a tense painting by Karl Hofer from 1943 and it sets the tone of a new exhibition in Berlin which traces art under the National Socialist regime and the Second World War.
The exhibition at the Hamburger Bahnhof Museum includes 60 works from artists such as Pablo Picasso, Otto Dix, Ernst Ludwig Kirchner.
Ir features both art that was deemed "degenerate" by the Nazis or created in opposition to the regime, and pieces promoted by the Nazis for propaganda purposes – in a quite daring mixture.
"We will see if it is controversial, but I hope that it will create discussion. We are showing this as an art exhibition but with a very strong historical aspect," explained Dieter Scholz exhibition curator.
Some of works on display received the Nazis' seal of approval and were held up as examples of "national" art. Other were met with derision and dismissed as "degenerate."
Pablo Picasso's "Large Reclining Nude" from 1942 is the centrepiece of the section of art which was created in opposition to the National Socialists. Picasso painted it two years after Hitler's army invaded the French capital.
"It was not our intention – but the title is now an indication of the times. The times that we live in right now are dark. They are dark for other political reasons than the ones we highlight in this exhibition," opined Udo Kittlemann who is the Director of the National Gallery Berlin.
Many artists whose works are on show were persecuted by the Nazis and forced into exile. The revelations of the ugliness of the National Socialist regime are depicted in their work.
"Night over Germany" by Horst Strempel was painted in 1945 as the war was ending and the world was waking up to the brutal horrors of the concentration camps.
The exhibition runs until 31 July 2016.