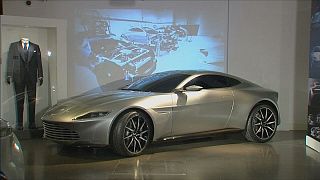 James Bond films are as much about cars as they are about espionage, seduction and dry martinis.
The latest movie, 'Spectre,' is no exception and the state-of-the-art babe magnets have joined a whole host of other Bond vehicles in the 'Bond in Motion' exhibition at the London Film Museum.
The new display 'The Cars of Spectre' gives fans the chance to see the props and gizmos from the latest Bond blockbuster.
Jonathan Sands is the founder of the London Film Museum:"They are one of the stars. They go back to "Dr No" and the first car chase sequence with the hearse and Sean Connery, you know driving the hearse, chasing the hearse over the edge of the cliff, and they've become a cornerstone of every single Bond movie since."

Fab weekend ahead #astonmartin in Piazza, new exhibits, Guest speakers and more. visit http://t.co/ocBpanSnoGpic.twitter.com/usp2QuVVSf

— London Film Museum (@ldnfilmmuseum) March 20, 2015
In the latest film, a villainous henchman, called Mr. Hinx is behind the wheel of an orange Jaguar C-X75,
and takes on Bond's Aston Martin through the streets of Rome.
Jonathan Sands continues:
"They call it a beast of a car, it's huge, and we have got one on display, it's going to break people's hearts, the one that we have got on because everyone's expecting this showroom model, but it is a beautiful vehicle. Ultimately it was a hybrid car but they turned it into a petrol car for the film, and the chase sequence in Rome was amazing, and we've got all the elements of that."

Retro Goldeneye Pinball has arrived at Bond in Motion - what's your highest score pic.twitter.com/lrOmsjAldo

— London Film Museum (@ldnfilmmuseum) May 30, 2014
"Bond in Motion – The Cars of Spectre" is turning heads at the London Film Museum.