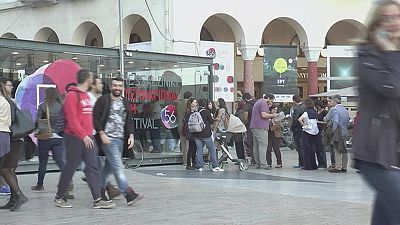 The 56th Thessaloniki International Film Festival, the premier cinema event in Greece, screened more than 200 films in a movie packed ten days.
Add to that the side events, educational programs and parties.

56th Thessaloniki International Film Festival https://t.co/pcSn4BzEpCpic.twitter.com/bXhpTB8yhR

— Proto Thema English (@eprotothema) October 30, 2015
Dimitri Eipides is the festival director: "Every year we face a new challenge. My ambition is the festival to develop and include all the new trends in independent cinema. I'm interested strictly in this field. It is a festival for all the cinephiles, especially the young generation. I want the viewers to have the opportunity to discover the latest in cinema. Art is something that always regenerates. "
The best feature film award, the Golden Alexander, went to "Rams": http://www.euronews.com/2015/06/05/rams-a-feelgood-film/ by Grímur Hákonarson from Iceland.

Carteles de RAMS de Grímur Hákonarson. Una de las películas del #SEFF2015pic.twitter.com/i2a8WDCmjv

— Blog de Cine Indie (@CineIndie) November 9, 2015
The film features two brothers who have not spoken for 40 years. They come together to save the only thing that connects them, the sheep.
The Silver Alexander was awarded to César Acevedo for the film 'Land and Shade.'

LAND AND SHADE, by César Acevedo; @semainecannes, Caméra d'Or @Festival_Cannes; http://t.co/ds2huTpP9Npic.twitter.com/X51YXW8ybU

— Festival Scope (@FestivalScope) June 1, 2015
Set against the backdrop of a sugarcane plantation in Colombia, it gives a taste of Colombian rural life by building the plot around a family struggling for survival.
The director sees the dignity in labour:"The film has to do with the struggle that workers live through their work and how they resist in our times. The only thing I wanted to do is to present their problems, to give them the opportunity to be heard.''
'Camino a La Paz',by Francisco Varone, follows an elderly Muslim who drives a battered Peugeot 505, from Buenos Aires to La Paz from where he wishes to travel on to Mecca.

#PanoramaU El Flaco Suarez fue premiado por su actuación en "Camino a La Paz" https://t.co/LpHHFuzhpHpic.twitter.com/vRK0RoP3ez

— Señal U (@senalutv) November 12, 2015
The film was directed by Francisco Varone and it was quite a challenge: "After shooting When I returned tired to the hotel and realised what we had to do the next day, and the day after, and the day after that and travelling, so many kilometers still to go, it was like a little bit stressing. And the joke among the crew was: "OK Next time, just two people, inside a house, in Buenos Aires. No cars, no dogs". I said "OK. Next time we 'll do it like that".
'Sparrows' by Rúnar Rúnarsson is a coming of age tale with the majestic Icelandic landscape as the backdrop.==
Þrestir (Sparrows) by Rúnar Rúnarsson wins top award at #63SSIFF. List will ALL winners
http://t.co/Z36dF3YQj5pic.twitter.com/i1m2LzFjwb

— StoryTeller (@StorytellerT) September 26, 2015
==
Rúnar Rúnarsson explains how he approaches a project:
"I try to write with my heart and not with my brain. The brain helps the heart sometimes, but it is important for me to use my heart. One way or the other, of course, everything is about me is either based on my own experiences or my interpretation of things that good friends have gone through."
The festival paid tribute to French director Arnaud Desplechin with a retrospective which featured his latest film
'My Golden Days.'
The director was deeply moved by the honour:
"This is the first time I have been here as a director. This retrospective with restored prints and new copies that I can show the Greek public. It was extremely moving the discussion with the audience, I had a feeling I had accomplished something that was powerful for me."

#tiff56 Arnaud Desplechin: Το σινεμά... (αποσπάσματα από μια συνέντευξη τύπου) https://t.co/WoTpNWE9y4pic.twitter.com/l9ZvYzC7AB

— Cinephilia.gr (@CinephiliaGr) November 13, 2015
Euronews arts correspondent Yorgos Mitropoulos attended the festival and said:
"Despite the financial crisis and the funding problems, the 56th Thessaloniki Film Festival showcased one of the best programs in recent years. The emphasis was on tributes from the past and the present of the world cinema and independent productions from across the globe.''