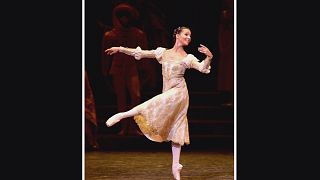 The new darling of London's Royal Ballet is just 23 years old. And seeing her in Romeo and Juliet at the Royal Opera House, dancing to the score of Russian composer Sergei Prokofiev, many say a star is born.
It's about love and abandonment and you being so shy at the beginning and then just, I don't know, you just let it all go
"Francesca Hayward":
http://www.roh.org.uk/people/francesca-hayward had dreamed of the role of Juliet since she was a young girl.
"I definitely remember the few seconds right before I make my first entrance," said Hayward. "I kind of got quite emotional actually, not scared and not nervous but quite emotional because I remembered all the times that I have done that when I was so small in my living room and just to think that it was really happening – it was quite a big moment."
Hayward was born in Nairobi to an English father and a Kenyan mother. Her parents separated when she was two, and she was brought up by her paternal grandparents in Sussex, southern England.
"They didn't expect to have a child sprung on them and they couldn't remember what to do, so they sat me down in front of a video of The Nutcracker," Hayward told The Telegraph.
So Hayward began dancing — at just 3 years old.
She joined The Royal Ballet School at just 11, graduated into the company at 18 and swiftly worked her way up to first soloist, taking the lead role in "Manon" and now as Shakespeare's Juliet.
Love and abandonment
Hayward has won rave reviews for her performance, with critics describing her as a mesmerizing, spontaneous, giddy Juliet.
Kevin O'Hare, director of the Royal Ballet, was among those to praise her.
"Her quiet determination, the way she did that, was really fantastic and then you know, you could see this sort of determined girl just let go in the balcony pas de deux and I thought Matthew with her, she was in such safe arms," he said.
Hayward has been paired with the Royal Ballet's Matthew Golding as Romeo. The partnership has helped bring the best out of her and into the role, she said.
"With Matthew I feel so secure, I can be just so relaxed, I can throw myself at him and I know that he is fine. It's really lovely to feel like a sense of what it's all about: it's about love and abandonment and you being so shy at the beginning and then just, I don't know, you just let it all go."
Hayward appears on stage in "The Nutcracker" in December and in Frederick Ashton's "Rhapsody" next January.