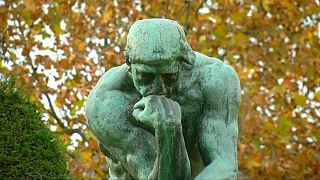 After three years and sixteen million euros of renovation work, Paris' famous Rodin Museum is finally reopening on the artist's birthday.
Many of the great sculptor's works have been restored and supplemented by his remarkable collection of paintings, including works by Edvard Munch and Vincent Van Gogh, much of which is on show for the first time.
The renovation project was partly funded by the sale of bronzes casts from the artist's original moulds as director Catherine Chevillot explains: "We are a rather unique case among French museums, we own the rights of the artist to continue to make original bronzes, within the legal limit of twelve pieces, so this has enabled us to partly fund the renovation work," she says.
"Rodin, like all post-Renaissance sculptors, would start working with clay, he would model it. So the moulding is what records the artist's original work. But these clay models are very rarely kept, they are destroyed when the artist makes a plaster cast of his work. So the plaster cast is the most faithful and the only remaining imprint of the artist's work," Catherine Chevillot explains.
With the number of sculptures created from original molds capped at twelve, the revenue stream is limited. Museum officials point out that works like 'The Thinker' have been cast the maximum number of times, but editions of 'The Gates of Hell' and 'The Kiss' remain available.
The bucolic mansion and its garden in the heart of Paris were home to the artist himself, who also used it as his studio in the years leading up to his death in 1917. Now among the ten most visited monuments in Paris, the Rodin museum attracts some 700.000 visitors a year.