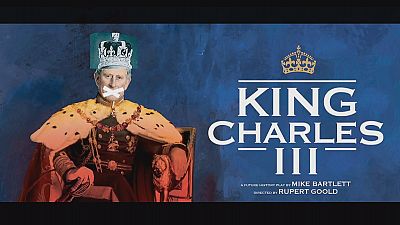 Following sell-out runs in both the Almeida Theatre and in the West End last Autumn, award-winning play 'King Charles III' has made its Broadway debut.
The Shakespearean-like tale starts off after the death of Queen Elizabeth and shows Prince Charles preparing to become King with Camilla and his children by his side.
"Quite often you have to spend quite a long time introducing people. With our play you don't," explains Tim Pigott-Smith, who has received critical acclaim for his portrayal of King Charles. "You know, the first line is 'My wondrous Charles' and that's me, and the audience goes, 'Oh, that's him, and that's Camilla' – they know. And I think it flatters audiences, because they enjoy spotting people."
"I've become quite a fervent royalist and I'm a huge admirer of Prince William," says Oliver Chris who plays Prince William. "I think if I had been through what he'd been through – let alone it being so magnified by the wolves and the hounds in the media – if I had been through what he'd been through I would still be in a desert sucking peyote out of an old coke can, just jibbering to myself, trying to work out a meaning behind it all."
According to Margot Leicester, who plays Camilla, "There's always that desire to go into myth and legend and "wicked-stepmotherise" somebody, isn't there? She's probably a much more straightforward women than that. I think she loves Charles, both in the play and in real life. And I think you have to honour that when you play somebody."
The production first premiered in England in 2014 to rave reviews and won the 2015 Olivier Award for Best New Play.
'King Charles III' runs at the Music Box Theater on Broadway until the end of January.