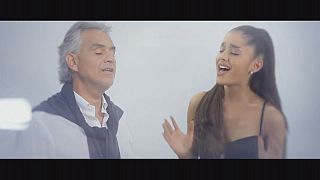 With his new album 'Cinema' reaching No.3 in the pop charts, Andrea Bocelli has become the first classical artist to have 10 top 10 albums.
A celebration of the greatest movie songs of all time, the album – his first in two years – is the culmination of a long-time dream for Bocelli: "The music of the movies is a music like a big field where composers can run where they want and be free."
Featuring songs from movies ranging from 'West Side Story' to 'The Godfather', the album also includes duet versions of 'Don't Cry for me Argentina' with Nicole Scherzinger and 'E Piu ti Penso' from 'Once Upon a Time in America' with Ariana Grande.
Bocelli says singing with the pop star was a treat: "Ariana Grande, it was a very nice experience for me because she's an idol for my sons, for example – for many young people. She comes from a very different repertoire and her voice is very nice, very sensual."
'Cinema' is out now. Andrea Bocelli is currently on a world tour with stops in Eastern Europe before heading to the United States in December.