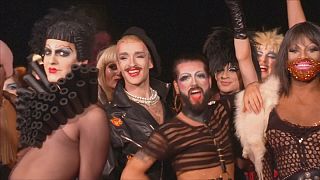 The Rocky Horror Picture Show is 40 years old and still packing houses all over the world. Rocky Horror celebrates B movies from the mid-20th century, and of course, all things transvestite.
The plot concerns an implausibly innocent young couple whose car breaks down in a thunderstorm. They take shelter in a dark and scary castle owned by a mad transvestite scientist called Frank-N-Furter and, needless to say, abandon their fears along with their morals by the end of the night. Sexual liberation ensues.
The film stars Susan Sarandon as the female half of the innocent couple and Tim Curry in flying form as Frank-N-Furter.
Needless to say stars and drag queens abounded at the the Rocky Horror birthday party held in the Royal Albert Hall in London, including many of those who have starred in the live show over the years.
Forty years ago, Rocky Horror was outrageous; both transvestites and no-strings sex were shocking, and critics panned the film. But the public loved it and it became a staple of midnight screenings. Today, Rocky Horror is a bit kitsch, a bit silly, but wholly likable and good fun. The movie is iconic, and the live show is still packing houses worldwide.
Peter (55), a warehouse manager and a devoted fan, has his own idea as to why Rocky Horror is still beloved: "I would say I am a fan of "The Rocky Horror Show" mainly because it just gives me the chance to get away from the straight-laced running a warehouse and do something slightly outrageous."
Rocky Horror fans traditionally join in with the movie, turning up in costume, ready to sing, dance, throw toast, water, loo paper, hot dogs and rice… at the show, audiences traditionally jump to their feet to dance and sing along with the finale.
Happy Birthday Frank N Furter.
Rock on.