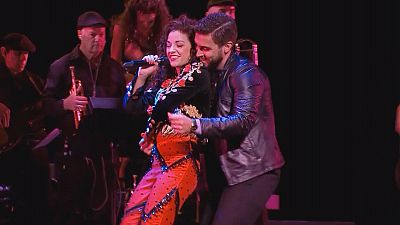 On Your Feet is a new Broadway musical about the lives of Cuban-American singer Gloria Estefan and her husband, Emilio.
Ana Villafane plays Gloria Estefan and says the singer is an icon: "The characters of Gloria and Emilio are symbols of a whole culture, of the Latino community. They never identified themselves only as immigrants. They represent everything that you can achieve given the opportunities in this country. And I think the show really emphasizes the American Dream."
Josh Segarra plays Emilio Estefan and says he is impressed by the strength of the Estefan marriage: "I asked Emilio once, you know like, 'How did you stay together this whole time? Very bluntly, how? In this business? This never happens.' And he told me, 'We loved each other throughout.' He told me in English, 'We loved each other throughout.' And I was like OK, that's it. Because if you care about your teammate, if you stay like this, completely united, nothing can trip you up."
Gloria Estefan is one of the world's best-selling music artists of all time, with an estimated 100 million records sold worldwide, including 31.5 million in the United States alone. She has won seven Grammy Awards and she is among the most Influential Latin Artists Of All Time.
On Your Feet! opens 5th November.
For more information see the official website:"http://onyourfeetmusical.com/" and Gloria's own website:"http://www.gloriaestefan.com/"