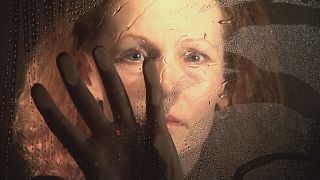 Russian theatre company KnAM is in Lyon to take part in the international performance festival "Sens Interdits" Founded in 2009, the biannual festival attracts theatre companies from all over the world, many of them very exciting, although unknown to the general public.
Patrick Penot, the artistic director of the festival explained: "The Theatre KnAM company is based in Komsomolsk-sur-Amour, 8,000 kilometres from Moscow, on the mouth of the River Amour. This tiny company has become one of the epicentres of world documentary theatre."
Their show this year deals with suicide, and was inspired by Dostoyevsky's "The Dream Of A Ridiculous Man" and by a real experience. Tatiana was surprised when a friend, Sonia, attempted to commit suicide because no-one even knew she was depressed.
"People leave this planet on purpose," she said, "they don't want to live with us, and that's a tragedy. Every year the equivalent of the population of Berlin disappears this way. You know, we've taken a wrong turn, we're in a dead end street. I think this is one of today's major problems. It's even worse than all the wars and refugees, because at least we know how they got there."
The first independent theatre company in Russian, KnAM clings to its independence. The 5 members aren't paid, and not being grant funded means they are free to work how they like, combining theatre with video, photography, painting, and anything else they like.
Elena Bessonova, an actor with the company, said: "When a subject grabs you, and there's something you want to express, you see it in the eyes. An actor isn't just a body. But a body doesn't lie, it can be very eloquent."
Increasingly well known in Europe, the company aren't going back to Komsomolsk-sur-Amour after the festival. They are touring France; playing in Montpellier, Marseille and Paris this November. And in January Tatiana Frolova will be giving master classes in Paris.