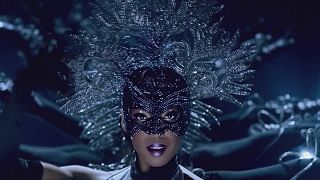 International circus troupe Cirque du Soleil seeks to reconquer Europe with its latest production Amaluna, a story which takes place on an island governed by goddesses and guided by the cycles of the moon.
Amaluna is a show that's celebrating the strength of women.
Currently live in Brussels, the show heads to Paris in November and London in the new year. It has a seventy percent female cast.
Artistic director Rachel Lancaster on the production: "Amaluna is a show that's celebrating the strength of women. The story is told through a love story that begins in a story that you may be familiar with. The very beginning of the show is loosely based on Shakespeare's The Tempest."
In the wake of a storm caused by Prospera, the island queen, a group of young men come ashore, triggering an epic, emotional love story between Prospera's daughter and a brave young suitor.
David Rimmer is one of the acrobats in Amaluna: "I'm one of the boys, one of the crew of the ship that becomes shipwrecked onto the island with Romeo and we have to perform an act to get out of – we get trapped by the Amazons and we have to perform an act to try and free ourselves, which is Teeterboard, which is like a see-saw discipline and we jump either side to fire each other up into the air."
Rachael Wood, performer, Cirque du Soleil, on her involvement with Amaluna: "I'm part of an eight-piece, all girl band, which is kind of a rock band accompanying the acrobatics throughout. The guitarists do play quite a big role in the show, we come out and help create the storm which brings the boys to the island, we come out and do duelling guitar solos, so the band is featured quite heavily throughout, which is quite unusual for a Cirque show."
Amaluna combines modern rock and magical lighting with exciting circus acts.
Founded in 1984, Cirque du Soleil has grown from a small group of Montreal street artists into one of the world's biggest entertainment companies, with 18 shows currently in performance. It was sold by its founder last April to US and Chinese investors.