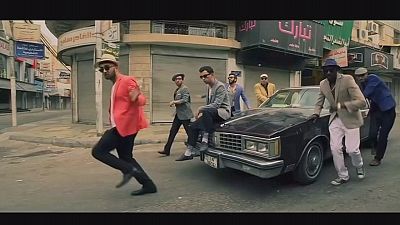 A Jordanian comedy group's parody of the hit song 'Uptown Funk' has gone viral on Youtube.
Originally produced by Mark Ronson and Bruno Mars, the remake takes a jab at Jordan's chronic unemployment rate that has left a generation of young graduates out of work.
Singing "Please find us work, because we have a lot of debt, jobs have disappeared," the Fooq al-Sada comedy group has reworked the song's breezy lyrics into a parody that denounces the situation for young people in Jordan and across the Middle East.
"We did it because we are a comedy group with a message. So, on the one hand, there's a lot of humour, but we also include a message in our work. From our experience, comedy is a great vehicle to deliver powerful messages. Honestly, whether it is harsh reality, or a sad story, or whatever, if you tell it with humour, we find that people accept it easily," says group member Muath al-Bzoor.
The founder of the comedy group, Nasser Jarun, says social media is a great tool for freedom of expression: "Following the Arab Spring, we feel that we have the space to talk and express ourselves, especially young people. We didn't have the tools to do so before, but through social media, like Facebook, Youtube and Twitter, we're able to express our opinions confidently."
The group say they are currently writing a song about honour killings.