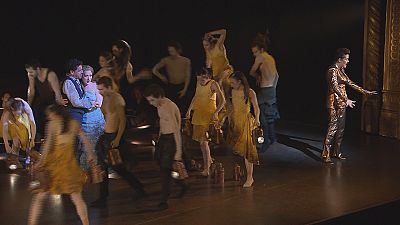 Juan Diego Flórez is one of the most sought after tenors of our time. Far from his usual Bel Canto repertoire, Flórez shines singing in French at the Royal Opera House in London in Gluck's "Orphée et Eurydice". The version presented in Paris by the German composer in 1774 is reinterpreted from a realistic perspective.
People love it, really. It's like a rock concert in the audience, for everybody. Usually the orchestra, the conductor, the director, they don't have that kind of ovation. But here, it's a feast.
In the myth, Orpheus goes to hell to bring back his departed love Eurydice to the world of the living.
"In this production, and I think it's a very intelligent interpretation, Eurydice is dead from the beginning, but she's dead for the whole opera, Flórez says of the heroine. "She never comes back. Everything that happens in between is in my head."
Orchestra on stage
The co-directors, John Fulljames and Hofesh Shechter, broke from convention, placing the orchestra – the
English Baroque Soloists
conducted by
Sir John Eliot Gardiner
– on stage.
Shechter, also the choreographer, says it felt "absolutely natural."
"The piece is about music, the piece is about a musician, the piece is about the power of music to open doors to open hearts, to gives you a path, a way, that's what Orphée is using you know as his tool as his weapon," he adds.
"And then, like kids we discovered how we can play with it. It can go up, down. All the play with levels, with worlds with realities, with the confusion of realities, we really loved that."
Orphee et Eurydice, Royal Opera House, review: One of the most brilliantly original shows on this stage in years http://t.co/35RyzJz7PE

— Roberto Angulo (@RobertoAnguloS) 27 Septembre 2015
For Florez, the positioning of the orchestra took a little getting used to: "I never had the orchestra behind me in an opera all the time. It's a different reception of the sound of the orchestra because we have it from back to front. You cannot look at the conductor and you cannot, in a way, have a connection, complete connection with him.
"Sometimes he wants to give you some kind of input, expressive input and he cannot do that. I'm used to singing in Italian. In Italian the vowels are open : a é i. In French you have many u, e, eu. And that makes it a little bit harder."
Moving performance
Shechter, the Israeli Brighton based choreographer
, has become a reference of the contemporary dance stage. This was his debut in the world of opera.
"In my work with my own company, I can just cut what doesn't work for me," he says. "Here I just had to face the whole structure of the piece as it is. So, that was sometimes difficult trying to find solutions, trying to find simplicity and something earnest, something real through pieces of music I didn't necessarily completely connect to sometimes."
The choreography gives the opera a new dimension," according to Flórez: "People love it, really. It's like a rock concert in the audience, for everybody. Usually the orchestra, the conductor, the director, they don't have that kind of ovation. But here, it's a feast because it's a production that has passion, it's very important passion, and it works very well."