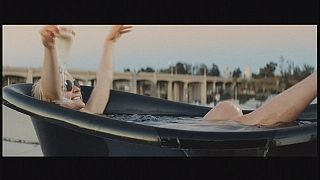 Canadian indie rock band Metric are back after a year long hiatus with their latest record Pagans in Vegas.
'Pagans in Vegas - what?' That's who we are, that's us.
It is the first of two albums the band wrote this year, but Pagans has a more electro feel.
Frontwoman Emily Haines describes how she came up with the catchy title.
"I was just reading through some of my lyrics and assembling the work around it, the images and stuff and I was like, 'Pagans in Vegas – what?' That's who we are, that's us. The world is in overload, on, it's always 4 in the morning, 24 hour lights, gambling, everyone trying to win and we're just the same people. We're like furry little pagans wandering around .
Formed by Haines and Jimmy Shaw in 1998, they were later joined by Josh Winstead on bass guitar and Joules Scott-Key on the drums. They are fresh from a 40-date tour with Imagine Dragons, an experience that fully immersed them in the mainstream music scene.
" I think we've always skirted around the mainstream," admits Haines. "We've played with Muse, we've played with The Stones, we've played with Paramore, we've played in and around but this was like no. These guys were mainstream, really sweet people who made a big point every night of saying to the audience, 'You should know who Metric is, we grew up on their music which was really kind and was really cool to be invited , it was very personal"
Pagans in Vegas is out now, along with single The Shade.
To get a taste of Metric's acoustic side, fans will have to wait for their next release which is scheduled for 2016.