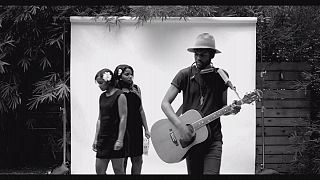 Gary Clark Jr is steadily climbing towards superstardom.
Now the Grammy award winning singer-songwriter's latest album 'Story of Sonny Boy Slim' is storming the charts, breaking the top 10 of the Billboard 200 chart in its debut month.
Clark's first child with Australian model Nicole Trunfio was born earlier this year while the album was in production.
"I was about to have my son," says Clark. "Nicole, my love, was very pregnant and so I was dealing with a lot of that and he was born in the middle of making the album and so my life changed and it was a whole transition thing and I had the opportunity to be in the studio at that time and really sit back and reflect and let it out."
The blues guitarist from Austin, Texas has been a part of the established music scene for more than a decade. He got his start in blues playing guitar at the age of 12. Clark's musical trademarks are his distorted guitar sound and smooth vocal style.
Having performed alongside legends like B.B. King, Jeff Beck and Mick Jagger to name but a few, the talented musician and guitar virtuoso is often compared to Jimi Hendrix.
"First and foremost I know my place, me and Hendrix aren't in the same… He laid the foundation for a guy like me to even do what I'm doing, so I respect that," says Clark. "And I think once that comparison starts to be put out there that becomes an expectation, you know, which I don't think is fair to put on somebody as an artist."
Currently touring the US with the Foo Fighters, Gary Clark Jr will be coming to Europe in November