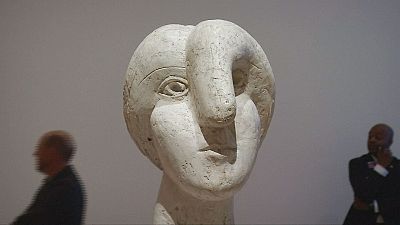 An entire floor of New York's Museum of Modern Art is being devoted to the sculptures of Pablo Picasso in the first exhibition of its kind in nearly 50 years.
From his earliest piece, a small terra cotta of a seated woman dating back to 1902, to a woman's head made in 1964, 'Picasso Sculpture' features more than 140 works on loan from private and public collectors, showcasing the artist's extraordinary variety of styles.
"What I could define the sculpture by is the lack of a consistent style. Every time he began to sculpt again, during a new decade in a new studio, he chose new materials, new techniques," says curator Ann Temkin.
A prolific painter who rarely hesitated to sell his paintings, Picasso is less well-known for his sculptures, most of which were unique works which he treasured and kept in his studios and homes. Only after his death in 1973 did they become visible.
"He always wanted to focus on people or animals. And I think you can also generalize that the sculpture has a whimsy to it and a playful quality, almost like a child's delight in stuff that comes through loud and clear, even when his subjects are quite serious or when his techniques are actually very, very complicated," says Temkin.
'Picasso Sculpture', an exhibition hailed as a works of art in its own right by critics, is on at the New York Museum of Modern Art until mid-February.