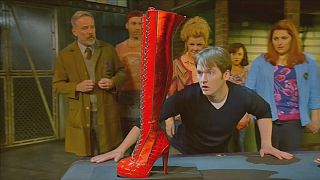 Broadway hit 'Kinky Boots' has had its premiere in London to strong reviews.
Already a huge success Stateside, it tells the story of Charlie Price, who inherits an ailing shoe factory from his father. To save the business, Charlie forms an unlikely partnership with cabaret performer and drag queen, Lola. With Lola's help, Charlie develops a plan to produce a line of high-heeled boots.
The music and lyrics are by Grammy-award winner Cyndi Lauper. Broadway legend Harvey Fierstein, himself a former drag queen, wrote the book. The pair were delighted to attend the musical's London premiere.
"We're in London!," said Fierstein at the premiere. "You know, you're sitting in New York writing a show that takes place in London and you're imagining stuff and now here we are. We've brought this show home."
Kinky Boots premiered on Broadway in 2013. After receiving mixed reviews at first, it went on to win six Tony awards, including Best Musical and Best Score for Cyndi Lauper in her first outing as a Broadway songwriter.
"Music is like cooking," she said. "You can add a lot of stuff in there and it becomes more flavourful, it becomes more exciting to me, and I also thought that people who come to a show are of many ages and you want to include all those people so adding the history of music and modern music is what will pull on people's heart strings."
Set in a gentlemen's shoe factory in the English town of Northampton, the musical is based on the 2005 film of the same name and inspired by true events.
'Kinky Boots' runs at London's Adelphi Theater until February 6th.