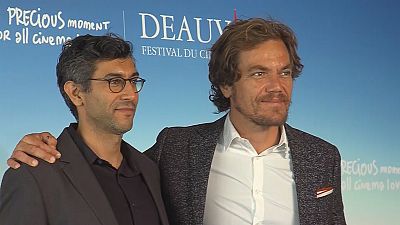 US actor Michael Shannon was at the American Film Festival in Deauville for the launch of '99 Homes' by American director Ramin Bahrani.
Set in Florida during the 2000 subprime crisis, the film stars Andrew Garfield as Dennis Nash, a desperate construction worker evicted from his home by a ruthless real-estate broker, played by Shannon.
Director Ramin Bahrani says what was initially meant to be a social drama turned out as a thriller.
"When I first set out to make the film, I thought it was just going to be a social drama. When you hear the word "foreclusure", you think 'Oh it's going to be a sad and depressing film.' But as soon as I got to Florida, I realised everyone had a gun and there were endless corruption and scams. And it turned into a thriller, a kind of a classical gangster story, a Faustian tale, a deal with the devil theme, where Michael's character is kind of a mentor and Andrew Garfield the apprentice."
In order to get his house back, Nash reluctantly takes on a job with the very man who evicted him in the first place.
'99 Homes' is one of a few American movies that offer an insider's view of the subprime crisis, both from the winners' and the losers' side.
"There are a lot of people down there struggling right now and have been for years, that's why I'm so glad that Ramin made this film," says Shannon. "Because I don't think this story was really getting told, at least not in a dramatic way that people could related to. That's the power of this movie, it's Ramin showing what's really going on."
The film reflects the director's view of America's social problem – that financial recovery must come at the direct cost to another party.
Both lead actors have earned critical praise for their performances.
"I love Michael, for me he is in the top five actors in the world, I have always wanted to work with him," says Bahrani. "I had not seen him in a role like this where he is slick and handsome and has all this dialogue. I wanted him in a slick suit, very tan and handsome, like a God from the sun that had come back down into Florida. It's this devil that you love to hate, but you kind of love. And he is corrupt but you understand him."
Described as a furious study of corrupt One Percent privilege and a tough, muscular, idealistic drama, the film has earned positive reviews on the film festival circuit.
'99 Homes' is out this autumn in Europe and the United States.